Automobile
15 Gorgeous Air-Cooled Porsches from Luftgekuhlt 7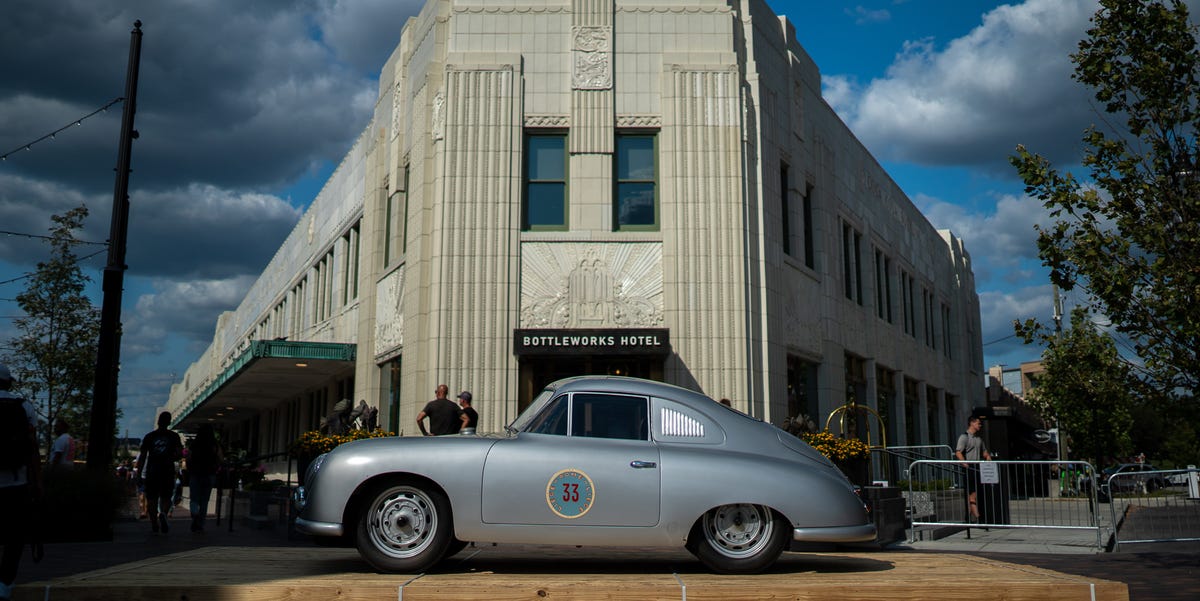 Marc UrbanoCar and Driver
What is Luftgekühlt? Aside from a word with heavy cut-and-paste energy? It's a car show celebrating air-cooled Porsches. But unlike some grassy 911 corral at Road Atlanta, walking through a Luft show is like walking through an amusement park where the best ride is time itself. It's not just the multimillion-dollar cars that make the exhibit so rich; much of the joy is owed to the direction and thought put into each setting. Last year's Luft, the sixth edition, was hosted at Universal Studios' backlot, where you could see a 911 Safari on the old Three Amigos! set.
Luftgekühlt 7 was just held in the Bottleworks District in Indianapolis. The former home of Coca-Cola's early bottling operations, it's a beautiful collection of art deco buildings where the streets were once lined with hundreds of delivery trucks loading America's favorite sugary drink. Its best days were back when many of the rarest and most valuable Porsches were still racing. Curating the best Porsches from a Luft show is a challenge. Even the sea of 911 SCs filling the arterial parking lots end up looking like a car show within a car show. And even if this Midwestern Luft wasn't as jam-packed as previous shows, it still featured exceptionally beautiful air-cooled cars. Here are 15 of them.
Advertisement – Continue Reading Below
911 Supercup
If you don't already have a favorite race-car livery from the '90s, here you go. These 911 Supercup cars competed from 1994 until 1997 in Porsche's one-make racing series across Europe. A little more than 200 of these 993 Supercups were built. The Porsche Supercup series continued for more than 30 years; today, drivers compete in identical Porsche 911 GT3 Cup cars in Europe, the United States, Mexico, and Bahrain. The 993 was the last of the air-cooled Porsches, but thanks to YouTube, you can still watch these Supercups trade paint at Monaco.
Bob Akin Coca-Cola 962
Powered by a big turbo air-cooled 2.8-liter flat-six, this 962 IMSA GTP was piloted by the legendary Bob Akin. The 1980s Coke Is It! slogan and red-and-white livery are bright reminders of early IMSA racing excitement. Even today, Porsche and Coke have neighboring headquarters in Atlanta, and this fantastic livery recently reappeared on the 911 RSR's final IMSA race there. Akin raced this 962 for two years with modest success. The car's two most memorable moments were its violent wreck after being blindsided at the 500KM Charlotte in 1984 and its first-place finish at the 1986 12 Hours of Sebring.
Hans Niederer's Vintage 911
The paint colors at Luftgekühlt shows do not disappoint. Like the Sand Beige on this 1967 911. The car was purchased new and raced by Hans Niederer at a six-hour endurance race at Watkins Glen and again at the Pocono 500 Miles. The original engine has been stored and replaced by a custom-built 2.0-liter with stronger components. It's an incredible vestige of 1960s road racing. Plus, it looks a helluva lot cooler than today's Honda CR-V and Jeep Gladiator with similar paint.
914/6 GT Racer
Straight outta Stuttgart and into a 24-hour race weekend at Daytona in 1971, this 914/6 went from delivery to a first-in-class finish in just a few days. This car in particular is one of only 16 the Porsche Racing Department built for customers in 1970. Making 210 horsepower, this was the most powerful version of the 914/6 GT. After several different owners and paint jobs, it's been restored back to its Daytona-winning look.
Speed Yellow 356 Outlaw
The first of the 356s in 1956 were offered with a choice of five different four-cylinder engines, ranging from the 356A 1300 with 44 horsepower to the 356A 1500 GS Carrera with 100 horsepower. This 1958 365 has around 265 horsepower and weighs only 2000 pounds. The brilliant color, Speed Yellow, was available as factory paint for various 911s, 968s, Boxsters, and Caymans. It looks legit on a 356. This is the latest creation from Rod Emory at Emory Motorsports. He's built over 200 beautiful Speedsters, dubbed the 356 Outlaw.
356SL Gmünd
Millions of bottles of Coca-Cola were produced here every week in the 1950s—about the same time this 356SL Gmünd's body was being hammered into shape. Produced in Austria after World War II, these were some of the first Porsche cars ever built. This example competed in a nearly 3000-mile road rally through some of Europe's wildest roads. It finished third overall and won its class. It went on to set several world speed records too. If you ever wondered what an auto show looked like in 1951, this car was actually on display at that year's Paris Motor Show.
1953 356 Standard 1500
Inside another Rod Emory 356 Outlaw, this Standard 1500 has been beautifully restored and has corduroy seats and matching door panels. The vertical ribs that create the corduroy texture are known as wales. The wider the wales, the stronger the fabric. It's something David Gamble, shop manager at AASE Sales and finder of ancient car parts, told us he had to learn when putting the interior of the car together. Using finer wales, like what you'd find on shirts and jackets, wouldn't be strong enough for seats, so the wider stuff found on pants and overalls had to be specially sourced. And if you already knew that about corduroy, please join our Thursday night trivia team ASAP.
904 Carrera GTS
This 904 Carrera GTS has less than 9500 kilometers (5900 miles) on it. It's another super-rare and low-mileage piece from the Ingram collection. Its first race, the 1964 Targa Florio in Sicily, ended in mechanical failure, but this same car would win first in class at 12 Hours of Reims in France. There are photos of it racing in Sicily in the July 1964 issue of Road & Track.
Gunther Werks 400R
When it comes to remakes, there's a fine line between horribly good and horribly bad. Where this Gunther Werks 993 is concerned, newer is better. Beautiful bare-carbon stripes are a fantastic detail on a car that uses carbon fiber for the bumper, hood, fenders, roof, quarter-panels, and ducktail spoiler. Its dramatic wide body makes it thicker than a Snickers, and it still uses an air-cooled flat-six like the 993 used to, but output has been pushed to 435 horsepower. We tested an earlier Gunther Werks 911, and it's quarter-mile time was 11.9 seconds at 120 mph.
1959 718 RSK
Shakiness, blurred vision, sudden and intense sweats. These are symptoms of hypoglycemia, but if you experience them near this 718 RSK, your blood sugar is probably fine. One of 35 ever made, and only one of six sold with a center-seat position, this 718 RSK might be the greatest car with only 150 horsepower. It's valued at somewhere between $3 million and $5 million, which is a lot of money, but why would you ever get rid of it?
911 Brumos Trans Am Race Car
Another beautiful piece of racing history, this 1967 911 competed in several endurance races, winning the 1969 12 Hours of Sebring with the legendary Peter Gregg behind the wheel. This car was delivered to the original Brumos Porsche dealership, the one that later started Gregg's Brumos racing team.
1969 908 LH
Though this display was fairly far from the entrance gate, Porsche's most successful 908 demanded a lot of attention. This car won the 1969 1000KMs at Spa with an average speed of about 143 mph. Drivers Jo Siffert and Brian Redman dominated, lapping the sister car in third place and beating out both 917s, which suffered catastrophic engine failure.
Porsche Carrera RS 3.8
The 964 Carrera RS 3.8 was far more than big tires and pretty aero. It was a car made for street use with aluminum doors and body parts in place of steel, just like the Cup car. Its door panels, windows, and carpet were thinner to reduce weight, and luxuries like air conditioning, power steering, and even the armrests were nixed. Less weight, more power, better grip. This is one of 55 built, and it has fewer than 3000 miles on the odometer. It's rare, but it's for sale, as well as other incredibly maintained Porsches in the Road Scholars collection.
1958 356A Speedster
Finding a $20 bill in an old coat is luck. Uncovering a Speedster with a little over 13,000 miles on the odometer in an estate sale is automotive fortuity. The poster child of barn finds, this 1958 356A was the dustiest exhibit in the show, complete with a torn rag top. Birds love it, old men and women want to be in it, and vacuums are afraid of it.
911 Factory Trans Am Race Car
This 1967 911 competed in the second-ever SCCA Trans American Race Series. Magnesium racing wheels, through-the-hood fuel-tank filler, and its original fender flares that accepted wider tires for road racing have all been retained.
Cars From Last Year's Luft 6
This content is created and maintained by a third party, and imported onto this page to help users provide their email addresses. You may be able to find more information about this and similar content at piano.io
Advertisement – Continue Reading Below
Most Related Links :
newsbinding Governmental News Finance News