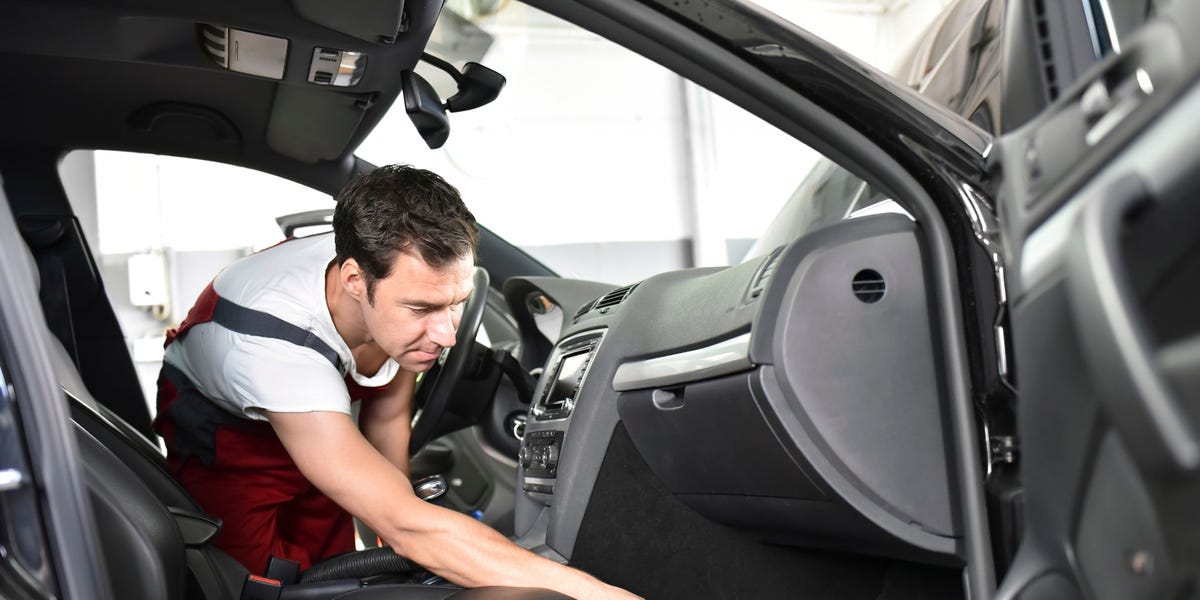 When it comes to floor mats for your Mercedes Benz, you have a lot of options to choose from. Great floor mats protect your Mercedes Benz's flooring while enhancing the interior. Having the right floor mats can make driving your Mercedes Benz even more enjoyable.
What Are Mercedes Benz Floor Mats?
Floor mats are pieces of rubber, cloth, or a combination of materials that protect your Mercedes Benz's flooring from spills and debris. The benefits of equipping your Mercedes Benz with floor mats include:
Protection – It's a given that when you and your passengers take a ride in your Mercedes Benz that you're going to track in dirt and other debris on your shoes. Spilling food or beverages on the floor is another common occurrence. Floor mats can protect your car or SUV's floor from these messes while making cleanup a breeze. If you track in dirt or spill something, all you have to do is shake out the mat or wash it instead of wiping down the entire floor.
Appearance – Floor mats are an easy way to customize and enhance your Mercedes Benz's interior. They'll also keep the flooring looking like new.
Value – Floor mats are also a convenient way to preserve your Mercedes Benz's resale value. Buyers, especially in the luxury vehicle segment, appreciate a pristine interior that is free of stains.
Types of Mercedes Benz Floor Mats
There are several types of floor mats available for your Mercedes Benz. The type that's suited for your sedan or SUV depends on your specific needs and tastes.
Fabric Floor Mats
Fabric floor mats tend to be the most affordable on the market. They usually feature a rubber backing to prevent slippage, and they typically fit most vehicles. Fabric floor mats come in lots of different colors and designs, making it easy to find a set that compliments the interior of your Mercedes Benz. Some fabric floor mats are made with synthetic fibers and do a great job at resisting water. Fabric floor mats are easy to clean, but they do tend to wear out faster than other types of floor mats.
Rubber Floor Mats
Tougher and more durable than fabric floor mats, rubber floor mats are also more expensive. While most rubber mats come in black, you can have them customized to match your Mercedes Benz if you're willing to spend a little extra. Rubber floor mats are stain-resistant and very easy to clean.
Nomad Floor Mats
Like fabric floor mats, nomad floor mats come in a variety of colors and designs. They consist of heavy-gauge vinyl loops that form a curly surface, which is why some manufacturers call them curly mats. The curly surface is highly absorbent of water and other liquids, while the loops serve as traps for debris. Nomad floor mats feel very comfortable under one's feet, and they aren't as slippery as rubber mats. They also don't have to be cleaned as often.
3D Floor Mats
While 3D floor mats cost more than other types of floor mats, drivers who use them find the extra cost well worth it. That's because 3D floor mats are very stylish and high-end, giving drivers even more colors and designs to choose from than other types of mats. 3D floor mats also feature an anti-skid backing, so you know they'll fit your Mercedes Benz perfectly. While 3D floor mats have deep grooves that trap dirt and mud, they aren't very absorbent. They also require more cleaning.
How To Choose Mercedes Benz Floor Mats
Disclaimer: The guidelines in this story are general and not meant to replace instructions for your specific vehicle. Please consult your owner's manual or repair guide before attempting repairs.
When shopping for floor mats for your Mercedes Benz, there are lots of factors to consider. These include:
Thickness – The thicker a floor mat is, the more comfortable it will feel under your feet. Thicker fabric mats and thicker nomad mats have more absorbency, so they're better at trapping spills. Thicker rubber mats have deeper grooves so that they can trap more dirt. Thick mats are heavier, which keeps them from slipping as much. They also tend to crack and curl less than thinner mats. If you do go for a thicker set of floor mats, just make sure they don't obstruct your pedals or seat adjustments.
Material – The material your Mercedes Benz floor mats are made of plays a big part in how long they last and how often you have to clean them. Fabric floor mats aren't as resistant to wear and tear as rubber mats, and you have to clean them more often. However, some drivers choose comfort over convenience. The material you choose for your floor mats depends on how often you're willing to clean and replace them.
Edges and Ridges – Floor mats with higher edges are better at containing dirt and debris, so it doesn't spill onto the floor while you're driving. Deep grooves and ridges will channel spills away from your feet.
Size – If you drive an SUV, you're going to need bigger floor mats than someone who drives a sedan. Make sure you purchase floor mats designed for your particular Mercedes Benz model. The proper fit ensures that your floor mats provide maximum coverage and protection.
How To Replace/Install Mercedes Benz Floor Mats
Clean the Floor
If you already have floor mats in your Mercedes Benz, remove them and clean the floor. A clean floor will ensure that your new floor mats lay flat and their non-skid features can get an unobstructed grip.
Match the Mats With Their Proper Locations
Some manufacturers add labels to the back of floor mats so that you know which one goes where. However, if your new floor mats don't come with labels, remember that longer mats typically go in front of the driver and front passenger seats. The shorter mats usually go in front of the rear passenger seats.
Place the Mats
Place the mats, ensuring that they lay flat and don't curl up at the edges. You'll also want to make sure they don't obstruct the pedals or are in the way when you adjust the seats.
Where To Buy Mercedes Benz Floor Mats
This content is created and maintained by a third party, and imported onto this page to help users provide their email addresses. You may be able to find more information about this and similar content at piano.io
Most Related Links :
newsbinding Governmental News Finance News