Automobile
View Photos of the 2021 Mercedes-Benz S580 4Matic Sedan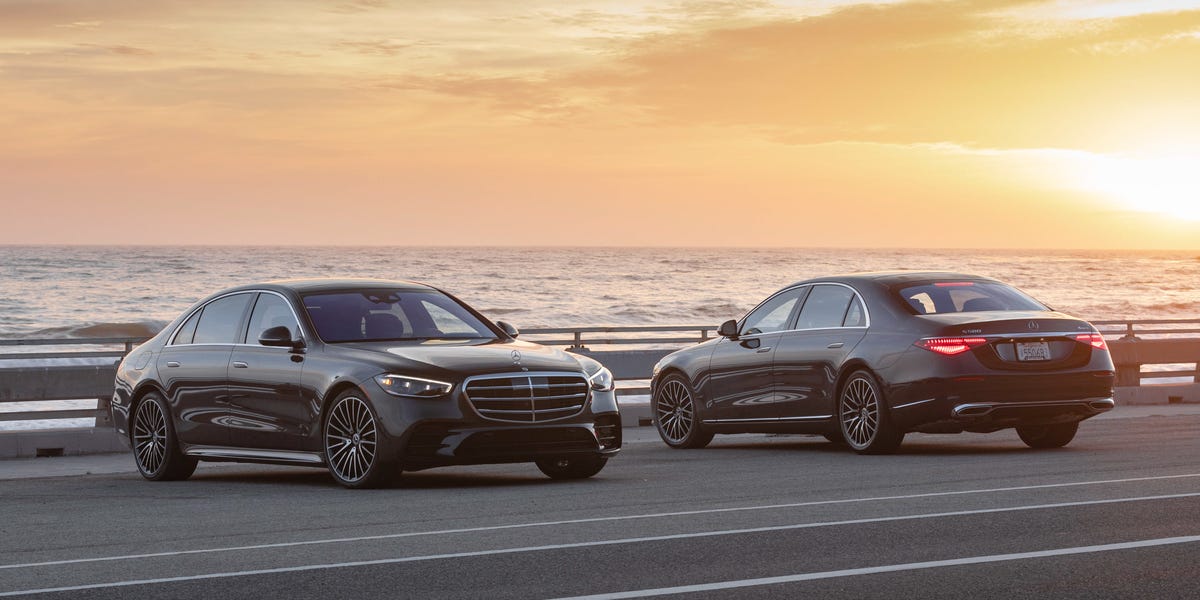 Mercedes aimed its best and most innovative engineers at improving the latest version of its flagship. They made a direct hit with a package that coddles its occupants in world-class comfort, offers premium performance, and is an innovation showcase.
1 of 89
The new S-class body boasts a drag coefficient of 0.22.
2 of 89
Two models will be coming stateside, the 429-hp S500 and the 496-hp S580.
3 of 89
U.S. versions will all come with standard 4Matic all-wheel drive.
4 of 89
Two massive OLED screens dominate the new interior. The center display measures 12.8 inches, and the screen in front of the driver is 12.3 inches.
5 of 89
The new screens feature 3-D capability that appears quite convincing in person.
6 of 89
Four-wheel steering is offered and can reduce the Big Benz's turning circle to a tight 35.8 feet.
7 of 89
A two-inch stretch brings the wheelbase up to 126.6 inches and increases rear-seat legroom by an inch.
8 of 89
Rear-seat occupants get reclining outboard seats when the car is fitted with the Comfort package or the Executive Line package.
9 of 89
Executive Line-equipped S-classes get rear-seat airbags that deploy out of the thigh cushions to prevent reclined occupants from sliding under the lap belts during a collision.
10 of 89
For those who want a bit more visual impact, an AMG-dressed trim will be available with 21-inch wheels.
11 of 89
2021 Mercedes-Benz S580 4Matic
12 of 89
2021 Mercedes-Benz S580 4Matic
13 of 89
2021 Mercedes-Benz S580 4Matic
14 of 89
2021 Mercedes-Benz S580 4Matic
15 of 89
2021 Mercedes-Benz S580 4Matic
16 of 89
2021 Mercedes-Benz S580 4Matic
17 of 89
2021 Mercedes-Benz S580 4Matic
18 of 89
2021 Mercedes-Benz S580 4Matic
19 of 89
2021 Mercedes-Benz S580 4Matic
20 of 89
2021 Mercedes-Benz S580 4Matic
21 of 89
2021 Mercedes-Benz S580 4Matic
22 of 89
2021 Mercedes-Benz S580 4Matic
23 of 89
2021 Mercedes-Benz S580 4Matic
24 of 89
2021 Mercedes-Benz S580 4Matic
25 of 89
2021 Mercedes-Benz S580 4Matic
26 of 89
2021 Mercedes-Benz S580 4Matic
27 of 89
2021 Mercedes-Benz S580 4Matic
28 of 89
2021 Mercedes-Benz S580 4Matic
29 of 89
2021 Mercedes-Benz S580 4Matic
30 of 89
2021 Mercedes-Benz S580 4Matic
Advertisement – Continue Reading Below
This content is created and maintained by a third party, and imported onto this page to help users provide their email addresses. You may be able to find more information about this and similar content at piano.io
Most Related Links :
newsbinding Governmental News Finance News