Entertainment
Gorgeous Lingerie Brands That'll Make You Wanna Ditch Real Clothes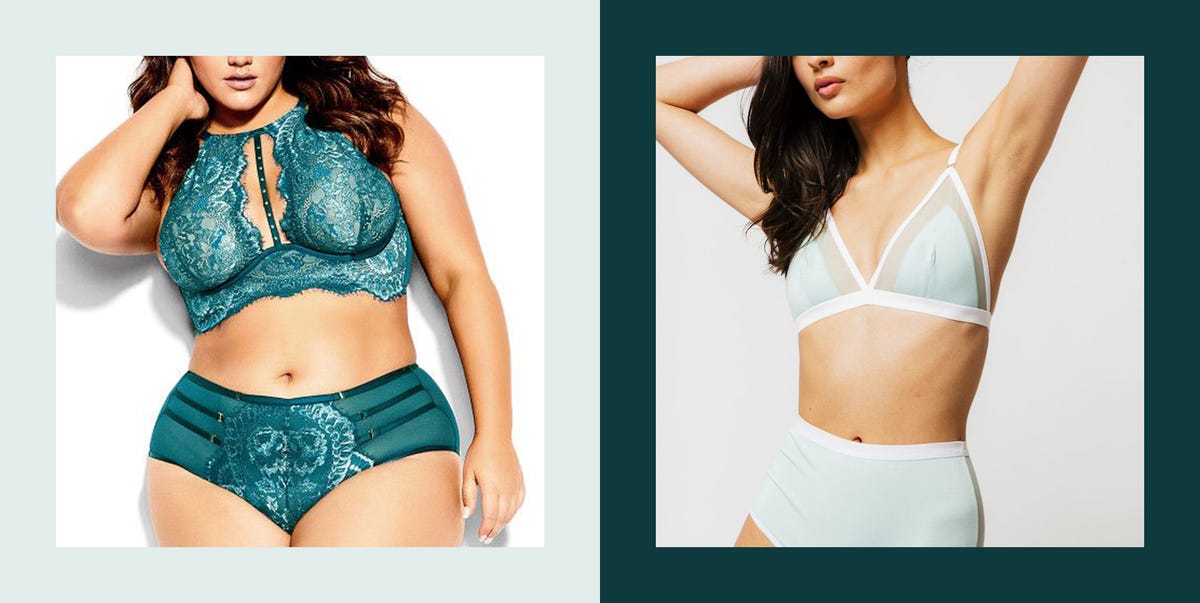 When it comes to lingerie, everyone has their own preferences. Some people may be into ultra-strappy, hard-to-get-in sets—while others might prioritize comfort and functionality over how cute something looks. All tastes are valid! Thankfully, there are tons of lingerie brands in the market that offer all types of styles and cater to many interests—from simple to sexy or over-the-top to comfy, and everything in between—so you can choose the perfect piece that checks all your boxes.
And if I'm keeping it real here, bras and underwear are one of the most important purchases you can make—considering we usually wear them every day—but it can be a bit overwhelming to shop for them when there are so many fab companies out there. Luckily for you, we rounded up the best ones—whether they have inclusive sizing, offer half-cup sizes, or are just generally notable—so keep scrolling for the 46 best lingerie brands that deliver on fit and quality and will make you feel confident as hell.
(Need more bra content? Click here for the best brands for large busts, the best brands for small busts, the best strapless Amazon bra, the best push-up bras, and a rundown of all the diff bra types.)
Advertisement – Continue Reading Below
1
AvidLove
High Waist Bra and Panty Set
AvidLove on Amazon has an insane amount of lingerie products to choose from—like this lace, two-piece set that's absolutely gorge.
2
ADOME
Bodysuit V Neck Teddy Lace Babydoll
Who said lingerie had to be just a bra-and-underwear look? Check out this fun romper piece from ADOME on Amazon and their other sultry, affordable designs.
3
Hips and Curves
Maudie Panty
You're going to be stuck on Hips and Curves' site for hours with how much stuff they have to offer. To make it easier for you, I suggest shopping this bold, mint set if you're looking to make a first-time purchase with them!
4
Coco De Mer
Gai Satin-Trimmed Balconette Bra
If you love floral, then you're definitely going to be a fan of everything Coco De Mer has. Their luxe sets usually feature some sort of flower embroidery that puts the sweetest touch on their lingerie.
5
ASOS
Morgan Linear Lace Underwire Bodysuit
ASOS really will never let ya down when it comes to clothes. And they won't either with lingerie! With an array of choices, you can find sexy sets and one-pieces (like this one) on their website.
What makes Anaono stand out from all other brands is that it has a collection of bras that serve different breast shapes, surgery outcomes, and more. So, whatever situation you're in—whether you just experienced a procedure or you're in search of a lightweight bra—Anaono is your place.
7
Chantelle
Champs-Élysées Hipster Panties
You'll find the cutest romantic bras and underwear from Chantelle. This hipster is sheer and has a very cheeky back if you're into it! 
8
Tallulah Love
Opulent Lace In Caramel Short
Tallulah Love's products are truly a work of art. How can you not fall in love with this muted pair of briefs that has the cutest lil cutout at the back?
9
Liberte
Bowery Lace Demi Bra
Founded by Amber Tolliver, Liberté is a Black-owned and size-inclusive lingerie brand. It has high-quality, classic designs featuring lace, mesh, and more in cup sizes 32C-38H and underwear ranging from XS to 2XL. Eyeing this pretty black number, not gonna lie.  
10
Journelle
Whisper Balconette Coucou Body
The lingerie retailer has its own line that's a little less pricey than designer pieces, but it still has the same quality and luxe look. Take this sheer bodysuit. Wowza. 
11
Thirdlove
Summer Lace Kit
The direct-to-consumer brand is popular thanks to its half sizes, and it also has equally comfy underwear. Bras are available in cup sizes A–I in band sizes from 30″ to 48″, and bottoms are available from XS to 3X. 
12
CosmoStyle
Rendezvous Lace Babydoll and G-String
CosmoStyle by Cosmopolitan
Okay, shameless plug, but Cosmo has its own lingerie line! And it has tons of styles that are cheeky or more elevated featuring dramatic robes and see-through babydolls, like this one. Yes, please. 
13
Intimissimi
Emma Silk Triangle Bra
Founded in 1996, this Italian brand has been making waves stateside because of its affordable prices and classic styles, like this silk one here. In addition to its matching sets, it also offers slips, camisoles, and bodysuits, so if you like donning sleepwear both in and out of bed, take note. 
14
Araks
Yanelis Bralette Lima
If you're looking to step up your bralette game, look no further than Araks for fun colors and two-tone styles, like this pretty blue and green one. Aside from that, they're ultra soft, and have inserts to provide some support. 
15
Bluebella
Harley Bra Black
This brand is all about show-stopping pieces—I mean, just look at this verrry exposed bra. Sure, they might not be the most practical for everyday use, but the brand definitely focuses on eye-catching designs that you can pull out of your drawer for special occasions. 
16
Fruity Booty
Blue Kesshō Set
If you're looking to make your lingerie a little fun, check out Fruity Booty. It has all of the cutest styles, from plaid to daisies and sheer.
17
True&Co.
Lift Scoop Neck
While the brand also offers bralettes, balconettes, T-shirt bras, and more, the seamless designs are the true MVPs here. (This style in particular has a four-star rating with more than 1,300 reviews. ) They lay super flat against your skin, retain their stretch, and have a buttery smooth fabric that doesn't irritate. 
18
Mary Young
Contrast Bra in Grey
Mary Young has bralettes soft enough for you to wear all day long. And the mesh panels make them stand out from the rest of your classic styles. 
19
Love Vera
Mikaela Lace Bralette & Short Set
Bralettes don't have to be boring, people. Although Love Vera's designs are supah frilly with scalloped edges and delicate lace, they're just as comfy as any other styles. Promise.
20
Adore Me
Trezza Contour Plus
This brand's impressive size range spans from XS to 4X and also offers insanely sexy styles, like this strappy balconette bra and matching briefs with geometric cutouts. If you're looking for that one "wow" piece of lingerie, scroll through the pieces here and you're bound to find one—without dropping a ton of cash, either. You can also sign up for a monthly subscription box of styles curated especially for you. 
21
Anya Lust
London Halter Bra
Never knew I needed a halter neck bra until I saw this gorgeous cutie with mesh panels and lace flowers. Anya Lust is known for creating jaw-dropping lingerie for when you want something extra special. 
22
Nubian Skin
Classic Brief
Sometimes you just wanna lounge around the house in your underwear all day. That's when you turn to Nubian Skin, the brand that specializes in making inclusive colors for all skin tones. 
23
Pepper
Mesh All You Bra
Calling all AA, A, and B cups! The brand Pepper is for you. They specialize in making the best bras for smaller cup sizes—and the styles are super cute, too.
24
NATORI
Feathers Underwire Contour Bra
Natori's pieces are comfortable yet sexy. I mean, this lace-trimmed plunging bra has more than 3,000 reviews and an almost perfect 5-star rating, so that pretty much speaks for itself. There's also a variety of colors offered in each style, so you can find the perfect set or mix and match hues. 
25
Only Hearts
Side Ruffle Bralette
The name says it all, but the brand definitely has a romantic style featuring all things colorful, lace, and sheer. It's also been around since 1978 and is manufactured right in New York City. 
The direct-to-consumer brand has a minimal aesthetic with solid-colored designs (although there is the occasional pattern!) and matching underwear that's available in a variety of cuts. If you're not fussy when it comes to your lingerie, give this brand a try. 
27
Dora Larsen
Marley Stretch Organic Jersey Thong
Always find yourself veering away from plain black bras and underwear? Dora Larsen is the brand you'll want to look into. Her creations often feature tricolor designs, like this one here. Everything is also under $100, so you don't have to stress about dropping too much cash for expensive-looking lingerie. 
28
Kiki de Montparnasse
Kiki Point Demi Bra
Kiki de Montparnasse has the perfect combination of sexy and sweet styles, like this ruffled bra with polka dots. 
29
Dora Larsen
Lila Triangle Bra
This British lingerie brand takes their inspiration from color (or colour, as they say across the pond). Their whole motto is that underwear should look as good as outerwear. 
30
Nude Barre
1PM Bralette
Nude Barre's styles are perfect to wear any under tee, whether you're going out or staying in all day long. 
31
Love Stories
Rosita Satin-Trimmed Scalloped Lace Briefs
If you love cutesy sets that you can also use for everyday wear, give this brand a try. The lingerie company, launched in 2014 by Dutch designer Marloes Hoedeman, offers luxe-looking pieces that are also relatively affordable. 
32
Fleur du Mal
Satin Luxe Balconette Bra
Don't be scared off by the fancy name. Fleur du Mal is a New York-based brand that uses French lace and silk to make its super luxurious lingerie sets, like the one pictured here. The company also makes silk robes, so if you're willing to splurge on the cost (fair warning: they cost a pretty penny) know that you can lounge around your apartment and look hella chic. 
33
Savage X Fenty
Savage Not Sorry Lightly Lined Lace Balconette Bra
Rihanna changed the cosmetics game when she launched Fenty Beauty in 2017, and she did the same with the release of her size-inclusive Savage X Fenty lingerie line. The spectrum of styles include super sweet lace pieces, saucy corsets, and leather pasties. Bra and bottom sizes range from 32A to 44DD and XS to 3x, respectively. 
34
Morgan Lane
Cherri Printed Silk-Blend Playsuit
Some styles from the brand even feature hand-drawn illustrations by founder Morgan Curtis. In her designs, you'll find a cheeky and playful aesthetic, but also a comfortable fit with her wide straps, unique back closures, and not-too-tight elastic. 
35
Addition Elle
Contour Padded T-Shirt Bra
If you're looking for support but also want to feel sexy, try Addition Elle. Its designs often feature standout details like mesh inserts, cutouts, bows, or lace trim that transform a basic matching set into something you'll want to wear on special occasions—or simply because you feel like it. 
36
Thistle & Spire
Kane Cutout V Wire Bra in Ivory
The brand's designs often include lace fabric, lace-up straps, and sheer panels if any of those suit your fancy. The mix of fabrics like velvet, lace, and satin make for super special pieces that are also comfy to wear all day long. 
37
Hanky Panky
After Midnight Wink Plaything Bodysuit
The brand has an impressive mix of everyday styles like thongs, briefs, and bralettes and more standout pieces, like this black lace babydoll with front-tie details. The brand will become your go-to for its array of comfortable designs and its sexy aesthetic. 
38
Negative Underwear
Sieve Non-Wire Bra in Buff
If you appreciate minimalist designs, Negative Underwear is the place to look for simple, yet steamy sets. The brand is a fan favorite, and its styles often sell out. Consider this label if the first thing you do when you get home is take off your bra—the designs are so comfortable, you'll want to keep them on. 
39
Honeydew Intimates
Nichole Lace Bralette
This is totally the brand for you if you're on a budget but don't want to look like you are. The luxe pieces look like they should be a LOT more expensive—take this ultra-sexy bodysuit that's only $45, for instance. The modern designs, which often feature lace inserts and strappy details, will become a staple in your lingerie drawer. 
In 1996, founders Ali Mejia and Mariela Rovito created Eberjey, a brand that combines high-quality, durable fabrics with its signature lace designs. In addition to its classic lingerie, it also offers chic pajama sets and teddies that'll make going to bed feel like the most luxurious part of your day. 
41
Anine Bing
Lace Bra With Trim
Launched in 2012 in Los Angeles, the Scandinavian-inspired brand offers romantic lace sets and also more bold patterns, like leopard  and zebra print. The lingerie has a delicate aesthetic, but it'll withstand daily wear with its durable lining. 
42
Lively
The Luxe Trim Busty Bralette
Lively is known for its trendy and comfy bralettes, although it does offer some underwire and strapless styles. You'll find great basic sets on its site in black, gray, and beige, but there's also the occasional pattern and pop of color. Especially noteworthy? The label makes a special bralette for larger busts that offers more support. Genius. 
43
Agent Provocateur
Plunge Underwired Bra
If you want a sexier style, Agent Provocateur will be there for everything you need. From strappy to sheer, you'll definitely find what you're looking for.
44
Cosabella
Never Say Never Ultra Curvy Sweetie Bralette
The brand, known for its comfortable yet colorful lingerie, is a fan fave when it comes to excellent fit. Its signature lace fabric doesn't irritate the skin, while the stretch allows a snug fit that doesn't cause slippage. You'll love wearing these sets lounging around your house. 
45
Elomi
Charley Underwire Plunge Bra
If you need a brand that offers larger cup sizes, Elomi is just the one for you—it goes all the way to a K cup, FYI. While it's diverse in sizing, it also features stylish designs, like this lace and spotted set. It'll have you covered for every occasion, whether you need a cute T-shirt bra or want something more strappy and sexy. 
46
Cacique
Lace Longline Lightly Lined French Balconette Bra
Looking for non-boring styles that are available in inclusive sizes? Then you'll want to peruse Cacique's selection stat (the brand is Lane Bryant's intimates line, fyi). The styles don't skimp on support, but they still offer cute patterns and colors, as evidenced by this pretty pink set with unexpected black contrast. 
This content is created and maintained by a third party, and imported onto this page to help users provide their email addresses. You may be able to find more information about this and similar content at piano.io
Advertisement – Continue Reading Below
Most Related Links :
newsbinding Governmental News Finance News