Entertainment
Grey's Anatomy EP Says Patrick Dempsey Terrorized the Set and Caused PTSD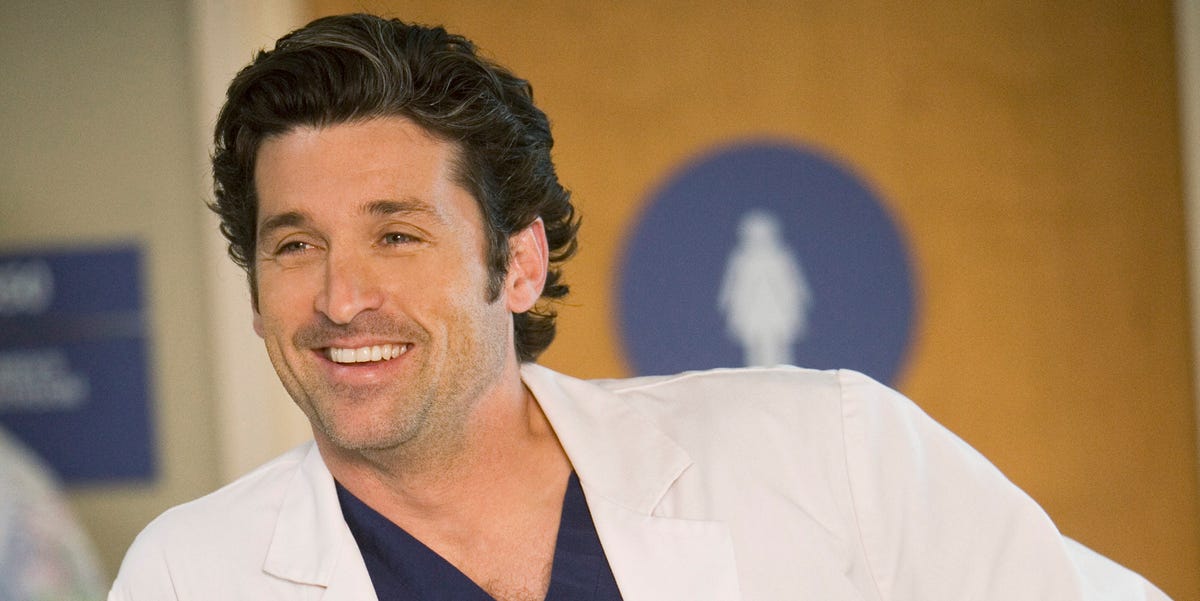 An explosive new book all about BTS drama on Grey's Anatomy is coming out, and there's a lot of unexpected information about Patrick Dempsey's shocking departure in season 11. The Hollywood Reporter just ran an excerpt of How to Save a Life: The Inside Story of Grey's Anatomy, in which author Lynette Rice speaks to Patrick's colleagues about what went down on-set, and revealed "HR issues" were the reason he left the show.
Executive Producer James D. Parriott, who was brought back onto Grey's "to serve as a veritable Dempsey whisperer," explained that multiple people had problems with Patrick on set.
"Shonda needed an OG to come in as sort of a showrunner for fourteen episodes. There were HR issues," James said. " It wasn't sexual in any way. He sort of was terrorizing the set. Some cast members had all sorts of PTSD with him. He had this hold on the set where he knew he could stop production and scare people. The network and studio came down and we had sessions with them. I think he was just done with the show. He didn't like the inconvenience of coming in every day and working. He and Shonda were at each other's throats."
Producer Jeannine Renshaw also spoke about the vibes on set, saying in part "There were times where Ellen was frustrated with Patrick and she would get angry that he wasn't working as much. She was very big on having things be fair. She just didn't like that Patrick would complain that 'I'm here too late' or 'I've been here too long' when she had twice as many scenes in the episode as he did. When I brought it up to Patrick, I would say, 'Look around you. These people have been here since six thirty a.m.' He would go, 'Oh, yeah.'
She said of the final straw, "A lot of the complaining … I think Shonda finally witnessed it herself, and that was the final straw. Shonda had to say to the network, "If he doesn't go, I go." Nobody wanted him to leave, because he was the show. Him and Ellen. Patrick is a sweetheart. It messes you up, this business."
A longtime crew member who was unnamed added "Poor Patrick. I'm not defending his schtick. I like him, but he was the Lone Ranger. All of these actresses were getting all this power. All the rogue actresses would go running to Shonda and say, 'Hey, Patrick's doing this. Patrick's late for work. He's a nightmare.' He was just shut out in the cold. His behavior wasn't the greatest, but he had nowhere to go. He was so miserable. He had no one to talk to. When Sandra left, I remember him telling me, 'I should've left then, but I stayed on because they showed me all this money. They just were dumping money on me.'"
In the THR excerpt, Patrick himself recalls wanting to leave the show and being swayed by the money: "It [was] hard to say no to that kind of money. How do you say no to that? It's remarkable to be a working actor, and then on top of that to be on a show that's visible. And then on top of that to be on a phenomenal show that's known around the world, and play a character who is beloved around the world. It's very heady," he shares. "It [was] a lot to process, and not wanting to let that go, because you never know whether you will work again and have success again."
Read the full excerpt over at THR, because wow 😳.
This content is created and maintained by a third party, and imported onto this page to help users provide their email addresses. You may be able to find more information about this and similar content at piano.io
Most Related Links :
newsbinding Governmental News Finance News