Entertainment
This List of Thoughtful Birthday Gifts for Your Father Is Truly Epic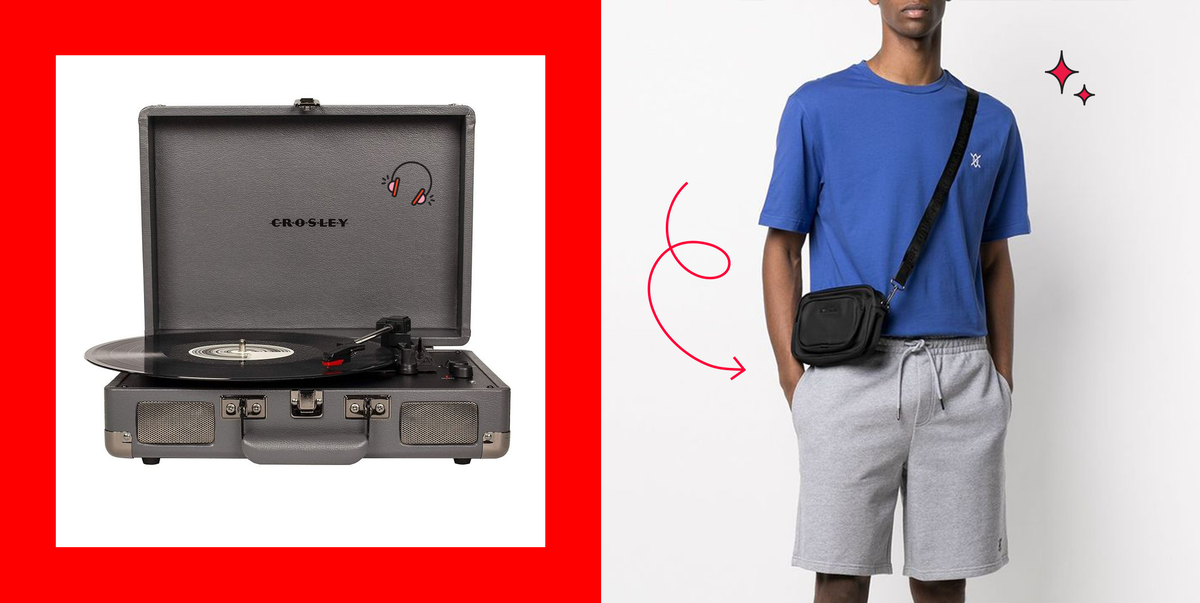 TBH, dads are pretty easy to please. Get him a comfy recliner, a gift card to Home Depot, and a few bad dad jokes, and he's set for a good time. So why is shopping for gifts for dads so impossible? Probably because they always claim that they already have everything they need. And while it might be true that your dad doesn't *need* anything, he probably has his eye on a few things that he would love to open for his birthday. But if he didn't leave tabs open on the family computer showing what he wants, let us help you think of a few super-thoughtful gifts for your father.
Whether you still live at home with the guy or live far away, you can still make his B-day extra special this year by gifting him something that suits his interests. We've got ideas for the golfer, the outdoorsman, the traveler, the musician—whatever your dad's passion or hobby might be, we've got a gift idea that'll really speak to his soul. From inexpensive gifts that he'll use every day to pricier ones he'll only break out for special occasions—be prepared to feel the love when your dad opens one of the 59 amazing gifts for men, below.
Advertisement – Continue Reading Below
1
a grill station
1971 Heavy Duty Flat Top Grill Station
Blackstone
amazon.com
$171.57
If your dad's so *chef's kiss* at grilling he could open up his own restaurant, get him a portable grill he can bring with him camping or wherever he goes. This one has 17 inches of flat grilling space so he has all the room he needs to whip up any meal.
2
a trio of spice blends
The Blends
Señor Lechuga Hot Sauce
senorlechugahotsauce.com
$25.00
A trio of spicy seasonings would pair perfectly with that grill, but a cookout isn't the only time he'll want to whip these out. These habanero, chipotle, and adobo flavors are so tasty, he'll want to sprinkle them on everything that needs a kick.
3
a fresh pair of go-to shoes
Men's Fresh Foam Arishi V3 Running Shoe
New Balance
amazon.com
$69.95
The man loves his dad sneakers, so get him a new pair in a durable gray color to had to his expansive collection of New Balances. 
4
this activity and fitness tracker
Vivosmart 4
If he's always venting about never getting a good night's sleep anymore, buy him a tracker that does it all—it monitors fitness, tracks stress, gathers sleep stats, and notifies him of texts and phone calls.
5
personalized golf balls
Pro V1X Personalized Golf Balls
Titleist
amazon.com
$67.99
For an avid golfer, a set of Titleist golf balls personalized with his name, initials, or even a photo will put a major smile on his face. (And if he's too nervous about losing them in the woods, get him a display case—or three—to go with 'em.)
6
a pair of contemporary trousers
Men's Slim-Fit 5-Pocket Tech Pant
Goodthreads
amazon.com
$25.10
Consider these tech pants a lightweight windbreaker pant disguised as a nice pair of slacks. With these, your dad can always stay comfortable and stylish.
7
a wireless charger
Catch:2 QI Certified Wireless Charger Station
Courant
amazon.com
$150.00
If his phone is always running out of battery, give him a little extra juice with this slender portable charger.
8
a short-sleeve shirt
Premium Cotton T-Shirt
GOOD MAN BRAND
nordstrom.com
$68.00
Sometimes dads need a little help in the style department—that's where this simple, yet stylish slim-fit cotton shirt comes in. Something's gotta replace all those old ratty tees. 
9
an old-school record player
Cruiser Deluxe Turntable
A dad who constantly talks about the good ol' days of music would love to receive one of these.
10
these stylish shades
RB4278 Square Sunglasses
Ray-Ban
amazon.com
$176.00
He'll enjoy the great outdoors even more with UVA- and UVB-protected sunnies that he can add a prescription to if he needs.
11
a travel-bag collection
4 Set Packing Cubes for Travel
For a dad always traveling for work, a set of packing cubes that keeps all his necessities separate and organized would be a great gift.
12
comfy shorts
Logo-Embroidered Track Shorts
Daily Paper
farfetch.com
$96.00
Your dad can do it all (or not do a thing) in these versatile sweatshorts. They're comfy enough for lounging but also stylish enough to wear with a button-down shirt.
13
some snazzy earbuds
AirPods With Charging Case
Apple
amazon.com
$159.00
$119.00 (25% off)
I'm just sayin'… he needs to ditch those cords. Get him up to date with some wireless AirPods.
14
a protective cover for his comp
Laptop Sleeve
If he always has his computer with him, consider gifting a profesh-looking pouch that will keep it protected from scratches and the elements.
15
cozy slipper slides
Men's Hampton Slipper
Vince.
amazon.com
$125.00
He won't want to take these slippers off because they'll keep his feet warm with a shearling lining. Plus, the rubber sole makes them great for outdoor wear if he needs to grab the newspaper in the morning.
16
a casual cotton shirt
Men's Relaxed Cotton Shirt
He'll love wearing this easy cotton button-down shirt that he can wear alone or layer over a T-shirt.
17
a sleek sweater
Italian Merino Wool Lightweight Crewneck Sweater
Buttoned Down
amazon.com
$25.60
Letting you in on a secret: Every guy looks immediately more professional and put together in a crewneck sweater layered over a dress shirt. Your dad will appreciate the upgrade.
18
a sweet weekender bag
Signature 2.0 Garment Duffle Bag
Vessel
amazon.com
$265.00
You must click through to see how this simple-looking duffle bag unzips completely to reveal that it can double as a garment bag for his suits.
19
a classic bottle of red wine
Cabernet Sauvignon
Substance
wine.com
$14.99
Is he always down for a glass of wine with dinner? He'll love this cab, and you'll love the price.
20
a leather sandal
Arizona – Oiled Leather
Birkenstock
zappos.com
$125.00
A slide that molds to his feet will be a go-to all year long, and this pair only gets better with time.
21
some chukka shoes
Men's Bushacre 2 Chukka Boot
Casual but cool chukka boots will be his go-to dress shoes. Choose from dozens of color combos and leathers (like suede, distressed, and smooth) to suit his style.
22
a fleece jacket
Men's Steens Mountain 2.0 Full Zip Fleece Jacket
Every dad needs a versatile fleece jacket that he can wear anywhere and anytime. This one has just under 30,000 ratings and 4.7 stars, so it's a pretty safe bet that he'd love it.
23
this tie
'Darth Vader' Paisley Silk Tie
Cufflinks, Inc.
amazon.com
$53.47
This tie might look like it has your average paisley print, but look a little closer and you'll find tiny hidden Yodas. The perfect gift for the dad who loves to nerd out over Star Wars.
24
a modernized backpack
Waterproof Backpack
Trade in his basic workbag for one that's not only sleek but also waterproof and made to last through anything.
25
Wireless headphones
Solo3 Wireless On-Ear Headphones
Beats
amazon.com
$199.95
$124.95 (38% off)
Give him a pair of headphones that deliver amazing sound quality and are comfortable enough to wear all day long.
26
shaving essentials
Shaving Kit for Men
This might be called a starter kit, but even a guy as experienced with facial hair grooming as your dad would love a set of shaving essentials like this. Inside he'll find a safety razor with 20 blades, shaving brush, shave cream, oil, and balm.
27
a bar kit
Canvas Cocktail Kit
True Brands
bespokepost.com
$65.00
If your old man is known for making a good old fashioned, this set of cocktail accessories is a must. A strainer, corkscrew, wood muddler, and more come bundled together in a cool canvas carrying case for storage or travel.
28
all his skincare essentials
Face Care Collection
Scotch Porter
scotchporter.com
$29.50
With face wash, exfoliating scrub, and moisturizing face lotion, his skin will feel so fresh and so clean after using this luxe set.
29
a travel grooming tool
Luxury Multi-Use Comb for Hair, Mustache and Beard
Leovard
amazon.com
$25.00
Or maybe the guy prefers to grow his facial hair out. Help him take care of the hair on both his head and his face with this stainless steel travel comb that comes in a leather carrying case.
30
a laptop riser
Walnut Laptop Stand
Oakywood
bespokepost.com
$149.00
Get all the sibs to pitch in on this ergonomic laptop stand for dad. Not only will it help with his tech neck by bringing his screen to eye level, but it also has a sleek look, which makes it also a great gift idea for the guy who has an eye for design.
31
a beauty routine
Natural Beard Care Set
Dabrina and Thaddius Moore
uncommongoods.com
$29.00
And he's gonna need some nourishing beard oil and conditioner to go with the above.
32
a durable utility jacket
Drivers Coat
Lululemon
lululemon.com
$248.00
A trendy jacket with plenty of stretch will make him look like the hip dad he thinks he already is.
33
a reversible leather belt
Men's Reversible Leather Belt
Columbia
amazon.com
It's time he replaced his trusty old belt with one that's not falling apart, right? This one is reversible with brown and black leather, so he can match it to whatever he's wearing.
34
this emergency kit
The Safe Emergency Kit Portable Bin
Judy
nordstrom.com
$295.00
You and all your siblings should go in on this emergency kit gift, which contains all the supplies necessary in case of a disaster, like warming blankets, candles, and water, and would give any parent peace of mind. And when you buy one, the company also donates an 8-piece kit to a family in need.
35
designer socks
HP Periodic Logo Long Socks
Heron Preston
ssense.com
$49.00
If there's one accessory dads can never get enough of, it's socks. And if he's a science guy, he'll love how this pair has a logo inspired by the elements of the periodic table.
36
this password notepad
WTF Is My Password Internet Address & Password Log Book
Fun Stationery
amazon.com
$6.99
If your dad's the kinda person who keeps the WiFi password written in bold on the fridge so he doesn't forget it (again), he'd appreciate this logbook for keeping everything organized and in one place.
37
a swanky decanter
Stackable Whiskey Decanter and Whisky Glasses
Godinger
amazon.com
$29.99
His favorite spirit would look v classy in a glass stacking set that comes with two cups. 
38
a comfy lounge set
Men's Waffle Lounge Set
Parachute Home
parachutehome.com
$149.00
If he's all about comfort, a cozy waffle shirt and matching bottoms will be so up his alley.
39
a tasty project
Make Your Own Hot Sauce Kit
UncommonGoods
uncommongoods.com
$40.00
If he's the kind of guy who loves to spice things up, he may get a real kick out of this make-your-own-hot-sauce kit.
40
a case for those snazzy earbuds
AirPods Leather Case With Strap
A protective leather case connected to a keychain means the AirPods' charging station will never be too far away.
41
a portable couch table
Couch Arm Table
Does he have that one place on the couch that's distinctively his? Make it a little more homey with this portable table that'll attach to any couch or chair arm.
42
a waterproof camera
HERO7
With this small, durable, and waterproof camera, your dad can shoot 4K videos and take photos anytime he wants. Even if he's not that tech-savvy, this one has an intuitive touch screen and voice control to make things super simple.
43
a firewood carrier
The Log Bag
Mi Cocina
amazon.com
$165.00
This canvas tote bag with open sides and leather handles makes lugging firewood around so much easier. It's the perfect gift for the guy who's always building campfires outside or starting them indoors in a wood-burning fireplace.
44
a cool hat
Embroidered Logo Baseball Cap
BOTTER
nordstrom.com
$195.00
Get him a cool new hat to wear all summer long—let's be honest, all year long. Dads love hats.
45
a portable speaker
One (Gen 2) – Voice Controlled Smart Speaker
If your dad is all about creating the perfect playlist for every occasion, a wireless Sonos speaker is just the thing for him.
46
a sleek stainless-steel espresso maker
Espresso, Stainless Steel, Metallic
De'Longhi
amazon.com
$454.95
$319.87 (30% off)
If he loves strong coffee in the morning, invest in a heavy-duty espresso maker that comes with a frothing pitcher. He'll use it all the time.
47
a sweet coffee mug
"Best Dad Ever" Coffee Mug
What better gift than a coffee mug to pair with an espresso machine? Remind him that he's obviously the best with a morning-brew staple.
48
a portable cooler
Pro Cooler – 33 Liters
He'll get some real mileage out of a backpack-cooler hybrid he can take camping, tailgating, or just out in the backyard.
49
fresh new socks
5-Pack Patterned Socks
Goodthreads
amazon.com
$15.90
Do him a favor and gift him a set of five funky pairs of socks. Then make sure he throws away his old, ratty pairs.
50
a device that keeps his wine cool
Wine Bottle Insulator
This gunmetal-color device will keep his favorite bottle of rosé, white, or bubbles at the optimal temp for hours.
51
a pair of boots
XODUS All Over It
Sole Rebels
solerebels.com
$140.00
Amp up his fall and winter style with a pair of wool-lined lace-up boots.
52
a very convenient robot vacuum
Roomba 675 Robot Vacuum
iRobot
amazon.com
$269.99
A clean freak will definitely get some use out of a robot vacuum that is Amazon Alexa compatible.
53
a nice-looking water bottle
Teakwood Bottle
This wooden water bottle is a handsome accessory he can take from the gym to his desk and beyond.
54
a minimal leather bracelet
Black Leather Wrap Bracelet
Esquire Men's Jewelry
macys.com
$64.50
If he's the type who likes subtle jewelry, a double-loop braided bracelet with silver accents will look right at home around his wrist.
55
a mess-proof reader
Waterproof Kindle Paperwhite
Amazon
amazon.com
$129.99
For those lazy days, he'll def love the new Kindle, which is also waterproof!
56
cool grill tools
Heavy Duty BBQ Grilling Tools Set
Alpha Grillers
alphagrillers.com
$39.97
If he's into grilling, he could always use an upgrade to his barbecue utensils.
57
a fun game
Baseball Game
UncommonGoods
uncommongoods.com
$56.00
If he loves family game night, this gift will be a total homerun. 
58
an effortlessly fashionable watch
Neutra Chronograph Brown Leather Watch
Give dad a classic style with a leather strap and silver accents. 
59
a swanky new wallet
Black Leather Card Holder
KingsleyLeather
etsy.com
$94.53
He can keep all his monies (and photos of you, duh) organized in a sleek accessory with compartments for his cards and bills. 
This content is created and maintained by a third party, and imported onto this page to help users provide their email addresses. You may be able to find more information about this and similar content at piano.io
Advertisement – Continue Reading Below
Most Related Links :
newsbinding Governmental News Finance News