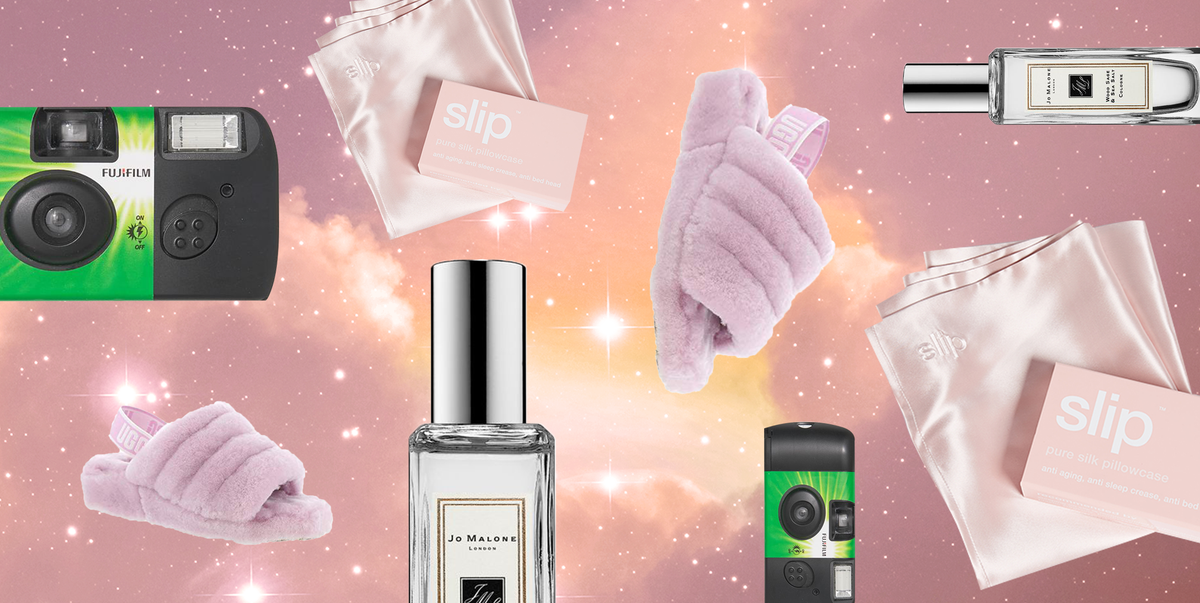 Shopping for a Taurus? Let me, a Taurus, help you out! Ruled by Venus, planet of love and beauty, Tauruses have a reputation for enjoying ~quality~…which doesn't mean you need to drop a ton of cash on your fave bull's birthday present (although LBR, they wouldn't be mad if you did). Instead, know that your Taurus sweetie, BFF, or sibling will enjoy something small but well made—like a fancy candle or comfy pair of socks—over a whole bag of trinkets from the dollar section.
As earth signs, Tauruses are very focused on the material—the things they can touch, taste, and smell. So give 'em a cozy blanket, a new cookbook they can master, or a fragrance that will become their new signature scent. Even better if you give them their present while treating them to dinner at their favorite restaurant. Or sending them takeout. Or cooking them a fabulous meal. (But only if you're actually a good cook. If not, how about you try to take a peek at their DoorDash history?)
While we Tauruses are easy to please, we can also be a bit (okay, maybe a lot) uncompromising and stubborn. Really, all we want is the same genuine, sincere affection we show others. Again, we love the finer things in life, so don't waste your money on a cheap, last-minute gift—bring flowers or a nice bottle of wine instead. Remember, we care more about quality than quantity or size. But really, the ultimate present you can give a Taurus is something genuine and from the heart.
A thoughtful gift that shows you know and care about them will mean the most to your favorite bull, but if you need some guidance, treat your Taurus to any item from this Taurus-approved (by yours truly) list.
Advertisement – Continue Reading Below
1
A Constellation Necklace
Taurus Constellation Necklace
There's nothing a Taurus loves more than a beautiful trinket, especially one that's designed especially for them.
2
The Most Taurus-y Taurus T-Shirt
The Most Taurus-y Taurus T-Shirt
Your favorite Taurus is probably proud of being a Taurus (as they should be), so help them show off their sign. 
3
A Vibrator
Taurus Horoscope Set
Pleasure is everything to a Taurus—ESPECIALLY sexual pleasure. This stimulating set is a gift that keeps on giving.
4
A Weighted Blanket
The Weighted Blanket
Tauruses need to be grounded (we like being close to the earth), so having a sense of safety and security is key to our happiness. A weighted blanket will make your fave Taurus feel so cozy and secure, they won't want to leave home.
5
A Card Game
Sing It Back Quiz Second Edition Trivia Card Game
Staying home, drinking wine, hanging with friends, and playing games sounds like Taurus's idea of a perfect night. They'll actually use an old-fashioned face-to-face game—and they'll invite you to play it too.
6
A Tarot Deck
The Cosmo Tarot: The Ultimate Deck and Guidebook
Help your Taurus tap into their intuition with a tarot deck—ours is perfect for their aesthetic sensibilities. 
7
Picture Frames
3 Piece Graziano Shabby Picture Frame Set
Tauruses treasure memories with the people they love, so they'll be touched to receive an elegant frame with a picture of the two of you together.
8
A Coffee-Table Book
Escape
A luxury coffee-table book caters to a Taurus's love of aesthetic perfection, so you can't go wrong with this one. 
9
A Silk Pillowcase
Slip Silk Pure Silk Pillowcase
A luxurious silky pillowcase will make Taurus's dreams come true! With this lavish little treat, they'll be one step closer to their ultimate fantasy of sleeping on a bed of roses.
Lounging around in a luscious robe is what Taureans wish they were doing all the time. Make their daydream a reality with this top-of-the-line bathrobe.
11
A Disposable Camera
Fujifilm Quicksnap Flash 400 Single-Use Camera With Flash (2 Pack)
A simple gift like a disposable camera will mean so much to your Taurus friend, who loves capturing their favorite moments and looking back on the memories.
12
Perfume
Wood Sage & Sea Salt Cologne
When a Taurus gets pampered, all is right in the world.
13
A Comfy Slipper
Ugg Fluff Yeah Slide Slippers
A Taurus puts comfort above all else. They're always down to chill on the couch with their feet up, so they'll love these fuzzy, cloudlike sandals.
14
A Taurus Candle
Taurus Candle
Tauruses are scented candle connoisseurs, so get 'em one designed for their zodiac sign. 
15
Cocktail-Inspired Soap
Cocktail-Inspired Soap
This product combines a Taurus's two favorite things: fancy baths and cocktails. Now, they just need a real one to sip on while they soak.
16
A Fancy Bath Soak
Full Spectrum Of Possibilities Pearlescent CBD Bath Soak
To pair with the fancy soap: a relaxing CBD bath soak in the prettiest packaging you can imagine.  
17
An Eye Mask
All Natural Retinol Infused Eye Mask- 5 Pack
Oh, and one more thing for bathtime: an eye mask that's both cute and effective.
18
A Cheese Board
Marble and Brass Round Cheese Board
Taurus loves entertaining guests at their home, and this elegant board will help them become the host of their dreams. Only the finest for the Queen of Charcuterie!
19
Copper Mugs
Ayesha Curry Barware Copper Moscow Mule Mugs
Don't let your Taurus get caught serving cocktails in coffee mugs! Only the best for their Moscow mules.
20
A Cookbook
Salt, Fat, Acid, Heat: Mastering the Elements of Good Cooking
Whether your Taurus is a cook themselves or simply a Seamless connoisseur, they probably enjoy a well-made meal. This cookbook will teach them what, exactly, makes their fave pasta so delicious.
21
A Statement Ring
Navy Blue Crystal Crush Gold Statement Ring
This ring is adorned with agate druzy, a crystal associated with healing, peace, and love—some of Taurus's favorite things! 
22
A Cheeky Sweatsuit
Evening Sweat Set
Look, Tauruses like to be comfy, okay???
23
A Hair Mask
Rose Water Hydrating Hair Mask
Tauruses take R&R seriously, so give them a hair mask that'll take their at-home spa to new levels.
24
A Wall Print
Taurus Wall Print
Show your pal you love their Taurus traits with some stunning wall art—available in a variety of sizes.
25
A French Press
Fetic French Press Coffee Maker
Picture a Taurus slowly drinking a French press's worth of coffee on a Sunday morning. Aah.
As earth signs, Taureans are all about ~growing things~, so if you're stuck, just send them some flowers! They'll appreciate it. 
Keep your Taurus's toes cozy in these adorable Taurus-themed socks. 
28
A Cozy Sweater
Oversized Crop Crewneck Sweater
There's nothing a Taurus loves more than loungewear that's cute enough to wear in public, too. 
29
Headphones
House of Marley Exodus Over-Ear Wireless Headphones
As earth signs, Tauruses are super in touch with their senses—which means they need luxury headphones for their podcasts, thank you. 
30
Wine Glasses
Estelle Colored Wine Glasses
Level-up your Taurus's glassware collection with these gorgeous colored wine glasses, available in a variety of colors. 
31
An Essential Oil Diffuser
Essential Oil Diffuser
Remember how I said that Tauruses need everything to smell good???
32
Blush
Mented Cosmetics Blush
Tauruses are ruled by Venus, goddess of beauty, so you know they always look good.
33
A Sweet Treat
Wine-Infused Dessert Sauce (Mango Pinot Grigio)
Tauruses have food critic-worthy tastebuds, so get them an indulgent sweet treat like these wine-infused dessert sauces. 
34
Sunglasses
Iconic Vintage Sunnies: Ovalique
Help your Taurus protect their peepers in style.
35
A Fancy Scrunchie
Pearly Scrunchy Wine
The most luxurious scrunchie you've ever seen belongs in a Taurus's hair.
36
A Pretty Planter
Sunset Pot, Large
Tauruses need their homes to be as cozy and beautiful as possible, so odds are this earth sign has at least two or three plants at home.
37
A Plant
Marble Queen Pothos
Plus, how about a plant to put in it? 
38
Bookends
Taurus Zodiac Rustic Steel Simple Home Decor Dorm Room Decor | Etsy
How about some nice, subtle, Taurus-symbol-shaped home decor? 
39
A Subscription Box
The Mental Wealth Box
Top up your pal's self-care supplies every month with a generous subscription box. 
40
Coffee
Motherland 3-Pack Gift Collection
Tempt your Taurus's taste buds with a collection of three different coffee beans. 
This content is created and maintained by a third party, and imported onto this page to help users provide their email addresses. You may be able to find more information about this and similar content at piano.io
Advertisement – Continue Reading Below
Most Related Links :
newsbinding Governmental News Finance News