News
10 Christmas Inflatables That Will Put Your Cheer on Full Display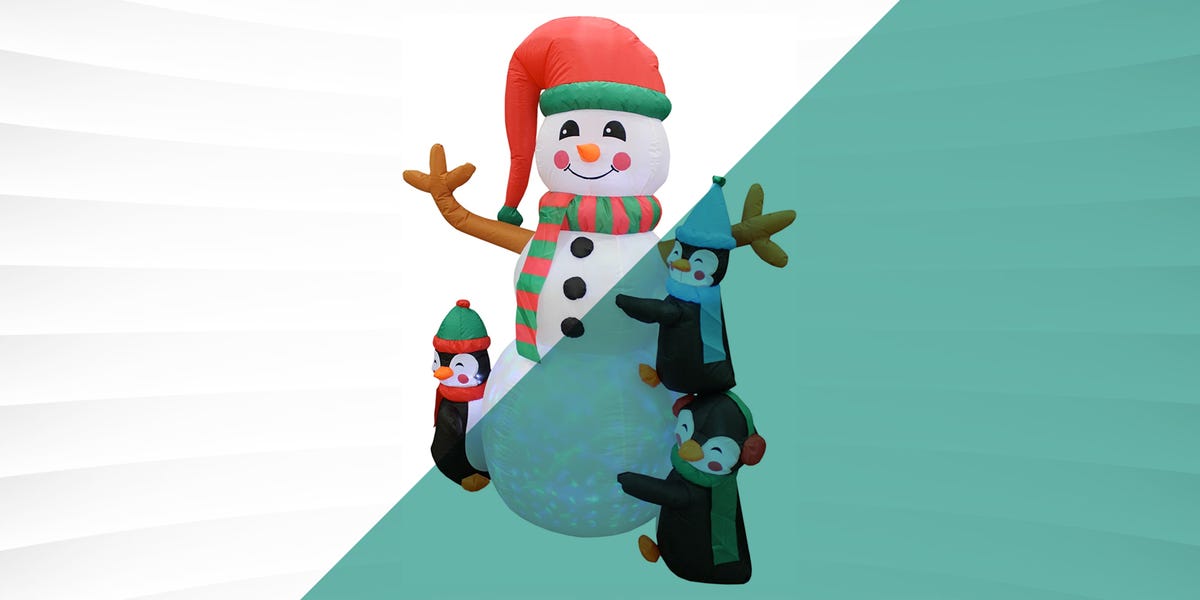 Staff, Courtesy of BZB Goods
The holiday season is upon us, which means it is time to spread good cheer near and far. If your yuletide plan includes broadcasting the season's greetings to your neighborhood, surely some outdoor Christmas decorations are in order. Christmas-themed inflatables have become one of the most popular—and certainly the biggest—way to share your joy. Whether you are picturing a mega, sparkling snowman or animated winter wonderland, there's a larger-than-life way to deck your lawn, below.
What to Consider
All of the inflatables we include deflate easily and fold up for simple storage; they also all light up. While it seems that's all you need to think about when it comes to a Christmas-themed inflatable, there are a few other things to keep in mind before making your final purchase.
Size: How much space do you have for an inflatable? Think carefully about how much of your lawn you want taken up by a Grinch or Santa scene, and how tall you want it to be.
Location: Think about where you want to put that cute inflatable snowman and penguin before clicking buy, and whether you are purchasing the right item for that space. You'll also need to place it closely to an outlet in order for the blower to work.
How We Selected
We reviewed thousands of inflatables, seeking out the highest quality goods we could from reputable companies. We also took professional recommendations into account and read through thousands of user comments before making our final picks.
Advertisement – Continue Reading Below
1
Best Inflatable Christmas Tree
BZB Goods 8-Foot-Tall Inflatable Tree
BZB Goods
amazon.com
$74.99
This polyester inflatable Christmas tree lights up at night, and includes stakes, tethers, and a blower for easy set up. The tree, which is decorated with ornaments and features three colorful presents underneath its boughs, self-inflates when plugged into a standard outlet with a built-in blower. 
Reviewers love this "great tree," say it is "well made and sturdy on windy days," and note that it "seems pretty durable."
2
Best Sitting Santa
GOOSH 5-FT Sitting Santa
This sitting, 5-foot-tall Santa has a merry look about him, making him an instant hit. It comes with built-in LED lights, and is made of high-strength waterproof polyester, which means it can withstand abuse from the elements. 
The inflatable also comes with a powerful blower that will keep it inflated, and stakes and ropes to secure it so it doesn't blow away. The blower has a 10-foot power cord, so it does have to be plugged in. 
Reviewers say this "smaller sitting down Santa" is "sturdy, easy to inflate and super cute!"
3
Santa on a Sleigh
12-Foot Inflatable Santa Claus
BZB Goods
amazon.com
$138.99
If you want to put just one item that says it all on your lawn, it would be hard to beat a smiling and waving Santa Claus with a sack of presents and a sleigh led by three happy reindeer. 
This item self-inflates when plugged into a standard electrical outlet. It comes with internal lights for nighttime viewing, and stakes and tethers to keep it secure. When inflated, it measures 144 by 20 by 48.5 inches. 
One reviewer gushed that they are "SO happy with this BIG Santa and his team of reindeer."
4
Best Menorah
Rochinha Hanukkah Menorah
Rocinha
amazon.com
$69.99
This festive 8-foot Hanukkah Menorah features four built-in lights that will illuminate the menorah and your entire yard. It includes a built-in fan that quickly inflates the entire display, but must be plugged in to work. The menorah also comes with sandbags and accessories, so it will remain securely on the ground, even in windy conditions. 
Reviewers say it "looks amazing and works great!"
5
Best Bumble
32-Inch Pre-Lit Rudolph the Red-Nosed Reindeer Bumble
ProductWorks
amazon.com
$52.48
This silly, festive statue shows Bumble wearing a Santa hat and wrapped in Christmas lights. The statue is made from a durable steel frame and covered in soft, colorful fabric. It comes equipped with ground stakes and spare light bulbs. It must be plugged in for the 80 LED lights to work, making it ideal for day and night display. 
Reviewers "love" the "sturdy" statue and say they are "very happy" with the purchase.
6
Splurgy Grinch
Gemmy 12-foot Grinch Inflatable
At full height, this Grinch (on a sleigh, with his dog Max) stands 12-feet tall and 9.84-feet wide. It is lit up internally with LED bulbs for a vibrant nighttime show. The inflatable comes with a built-in fan motor, yard stakes and tether ropes. It self inflates, but must be plugged in to work. 
One reviewer says they are "so happy with the quality of this item," and while some say it's larger than they expected, others say the "size is perfect and makes my son extremely happy."
7
Best Entrance
Santa's Workshop Entrance
The Holiday Aisle
amazon.com
$185.99
Forget making a dramatic entrance over the holidays. Instead, how about creating your neighborhood's most dramatic entryway? This 10-foot-tall gate to Santa's Toy Shop could be placed on a large front porch in front of a door, or at the entry to the path leading to it. 
With a rocking horse on top and two Nutcracker soldiers guarding the two towers, this is definitely a gateway to memorable holiday fun.
8
Best Winter Wonderland
9-Foot Polar Bear, Penguin and Reindeer Playland
The Holiday Aisle
wayfair.com
$107.99
This 9-foot-long inflatable features a whimsical arctic scene with a polar bear, penguin, and reindeer in Santa hats cavorting on a slide. There is also a festive Christmas tree strewn with ornaments and topped with a star. 
The slide is lit with LED lights from within, making it great for nighttime viewing fun. Also included are stakes and tethers to keep it secure. This slide self-inflates when plugged into a standard electric outlet. 
Reviewers say the "large" installation makes a big impression, especially on kids. "We love this fun holiday inflatable," one enthusiast writes. "It was easy to set up and brings a lot of personality and holiday fun to our yard!"
9
Penguins Build a Snowman
6-Foot-Tall Snowman Inflatable
BZB Goods
amazon.com
$79.99
This happy scene features three grinning penguins in Santa hats and scarves "building" a merry looking snowman, also wearing a big grin, a Santa hat and striped scarves.
It is lit with colorful LED lights from within, that twirl and project a warm and festive nighttime glow. The inflatable comes with stakes, tethers and a blower that works its magic quickly once plugged in.
Reviewers say they are "very happy this this purchase," adding that it is "so cute." One reviewer notes that it's relatively small circumference makes it a good fit for the front porch.
10
Giant Gingerbread
Christmas Gingerbread Inflatable
The Holiday Aisle
wayfair.com
$88.99
This 8-foot-tall Christmas Gingerbread Man will add a fun and festive touch to any holiday scene, or will serve as a solo ambassador for seasonal fun. 
The smiling gingerbread man is wearing a Santa hat, a striped scarf, and has a large candy cane and present with him. The set-up includes stakes and tethers, and bright LED lights that swirl around inside. The gingerbread scene is self-inflatable with a built-in blower that operates once it is plugged into any standard electrical outlet. 
Reviewers love this "great, nice and BIG" inflatable, adding that it is a "perfect addition to our child-friendly neighborhood."
This content is created and maintained by a third party, and imported onto this page to help users provide their email addresses. You may be able to find more information about this and similar content at piano.io
Advertisement – Continue Reading Below
Most Related Links :
newsbinding Governmental News Finance News