News
8 Best Grill Cleaners for Cutting Through Grease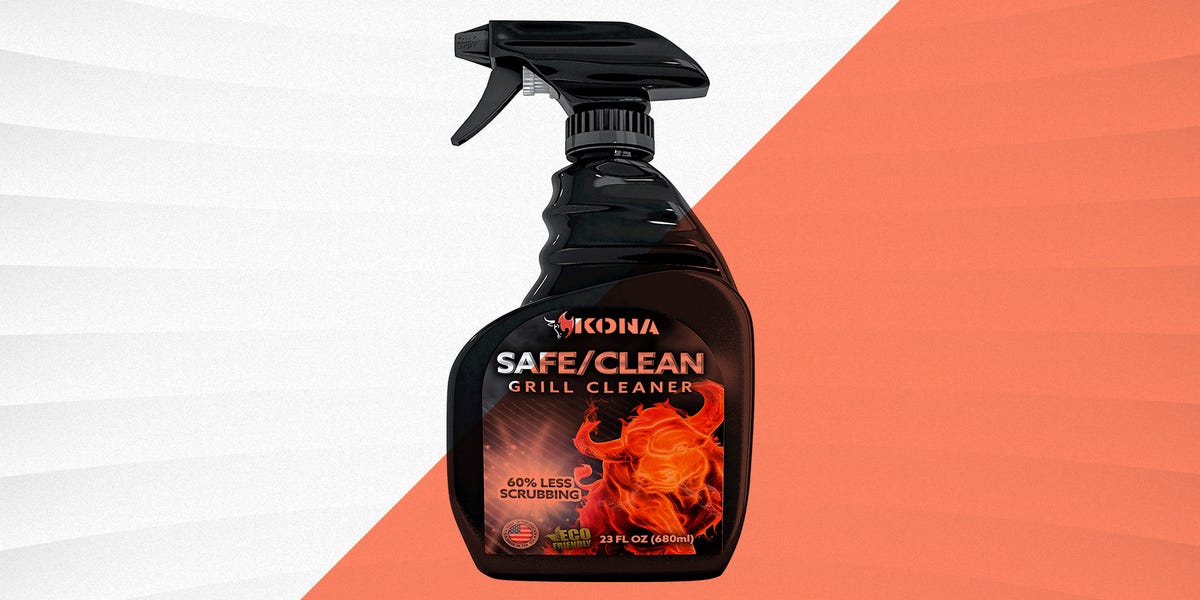 Whether you're preparing for a short but magnificent warm-weather grilling season, you're out mastering coal-fired burgers all year long, or you're getting ready to clean up and close shop until spring, it's important to have the right tools to keep your grill in tip-top condition. In addition to brushing the grates with a firm-bristled brush between uses, every now and then you'll want to cut through the build-up of grease and food. This helps prevent flare-ups and smoke from caked-on food and flammable oils.
The best way to keep your grill clean and safe—and lasting longer—is with a cleaning solution that's formulated just for grills. We've found the best grill cleaners for every kind of grill, including charcoal and electric.
What to Consider
Not all cleaning products are created equal. Which is why you wouldn't want to use your glass cleaner or toilet solution to scrub your grill. The first thing to check when buying a grill cleaner is whether or not it's compatible with your grill surface. Most grill cleaners are safe for use on stainless steel, for example, but if you have a ceramic or porcelain surface that you want to keep spiffy, look for a more all-purpose cleaner.
Next, consider the kind of cleaner you want. The two main varieties of grill cleaners are liquid sprays and foams. While foams can be more potent to cut through especially thick layers of grease and grime, they can also release stinky fumes. Liquid sprays tend to be more gentle, and though they may require an extra application or two, they'll get the job done.
Finally, consider where you'll be using the spray. If you cook with an outdoor grill, you may want to choose a biodegradable or veterinarian-approved cleaning spray. These are gentler on the environment, and you won't risk harming a pet or other animal in your yard.
How We Selected
I am a trained chef, recipe developer, and food writer for Munchery and Simply Recipes. I'm also a lifelong New Englander who relishes the few glorious months of the year known as grill season. Like every appliance I own, my gas grill gets the respect it deserves. That means using the right tools on it, like long-handled tongs, a stiff cleaning brush, and cleaning products to keep it running well. To help you find the best cleaning solution for your grill, whether it's indoors or out, I've researched the most popular cleaning products available. I based my choices on product tests and consumer reviews, as well as price and availability. Whether you need a heavy-duty foam to cut through a season of burger grease or you're looking for an environmentally friendly solution to use on the grill and around the house, there's a cleaning product on this list for you.
Advertisement – Continue Reading Below
Best All-Around Grill Cleaner
Traeger Grills All-Natural Grill Cleaner
Traeger
amazon.com
$14.99
Key Specs
Type: Spray

Size: 950ml

Safe for Non-Grill Surfaces? Metal
Traeger is a well-known and well-respected name in the world of grills, so it's only natural that its liquid grill cleaner tops our list. This made-in-the-USA biodegradable formula is strong enough to break down grease and grime from grill grates and external surfaces. It works great on a Traeger and nearly any other brand.
Made from plant-based ingredients
More expensive than other options
Best Budget Grill Cleaner
Goo Gone Grill and Grate Cleaner Two-Pack
Goo Gone
amazon.com
$16.98
Key Specs
Type: Spray gel

Size: 2 24-oz. bottles

Safe for non-grill surfaces? Floor, tile, stone
As the name suggests, this spray cleaner is a powerful way to cut through grease. The biodegradable formula is citrus-scented and made from flame-resistant ingredients to limit smoke or flare-ups after cleaning.
Two-pack will last for many grilling seasons
Cannot be used on aluminum
Best Aerosol Grill Cleaner
Easy-Off BBQ Grill Cleaner
Easy Off
amazon.com
$18.62
Key Specs
Type: Aerosol

Size: 3 14.5-oz. cans

Safe for non-grill surfaces? Stainless steel
You're likely familiar with Easy-Off's over cleaner, which you spray on, wait, and wipe clean. Its grill cleaner works the same way. Coat your grill grate with this powerful chemical cleaner and let it sit for 40 minutes while it works its magic, cutting through grease, grime, and layers of baked-on food.
No need for a grill brush
Requires more time to use
Best Enzyme-Based Grill Cleaner
Absolutely Clean Amazing BBQ Grill Cleaning Spray
Absolutely Clean
amazon.com
$22.99
Key Specs
Type: Spray

Size: 32 oz.

Safe for non-grill surfaces? Stainless steel
This professional-strength cleaning solution works on more than just grill grates. Use it on burners, drip pans, and interior and exterior surfaces for a clean, shiny finish. Rather than harsh chemicals, this cleaner contains enzymes that cut through grease in one to two minutes.
May require more scrubbing than other options
Best Cleaner for Porcelain Grills
Kona Safe/Clean Grill Cleaner
Key Specs
Type: Spray

Size: 23 oz.

Safe for non-grill surfaces? Ovens, microwaves, porcelain, ceramic
This powerful grill cleaner is safe to use on nearly every grill surface, including infrared, char-broil, and ceramic. It also cleans stainless steel and even the wheels of portable grills. The cleaner needs a few minutes to work its magic but requires little scrubbing to remove grease.
Cleans grill tools, pans, and kitchen utensils
Smaller bottle than other options
Best Professional-Grade Grill Cleaner
SC Johnson Professional Fantastik Max Oven & Grill Cleaner Spray
SC Johnson Professional
amazon.com
$14.01
Key Specs
Type: Spray foam

Size: 32 oz.

Safe for non-grill surfaces? Aluminum, stainless steel
This is a liquid spray cleaner that works like foam. It immediately expands on contact with the grill surface and needs a few minutes to sink in. The foam eats through stains and requires very little scrubbing to come clean.
The fumes may be strong for indoor use
Best Bulk Grill Cleaner
Quality Chemical Oven & Grill Cleaner
Quality Chemical
amazon.com
$29.97
Key Specs
Type: Liquid

Size: 1 gallon

Safe for non-grill surfaces? Stainless steel, clothing
Unlike foaming grill cleaners, this liquid version does not emit strong fumes or odors. It works around the house on indoor and outdoor kitchen surfaces, as well as bathrooms. Professional cleaners love how quickly this solution works to remove stains.
Removes grease stains from fabric and bathtubs
Requires separate spray bottle
Best Green Grill Cleaner
Green Earth Technologies G-Clean Ultimate Grill and Surface Cleaner
Green Earth Technologies
amazon.com
$19.99
Key Specs
Type: Spray

Size: 22 oz.

Safe for non-grill surfaces? All hard surfaces
This biodegradable cleaning solution is gentler than higher-chemical options. The spray bottle is designed to emit micro-particles to maximize the cleaning surface. While it does a great job of lifting and removing a few layers of grease, you may need to spray twice if you're facing an especially burnt pot or grill rack.
More expensive than other options
This content is created and maintained by a third party, and imported onto this page to help users provide their email addresses. You may be able to find more information about this and similar content at piano.io
Advertisement – Continue Reading Below
Most Related Links :
newsbinding Governmental News Finance News