News
Get Your Laundry Cleaner With the Best Top-Load Washer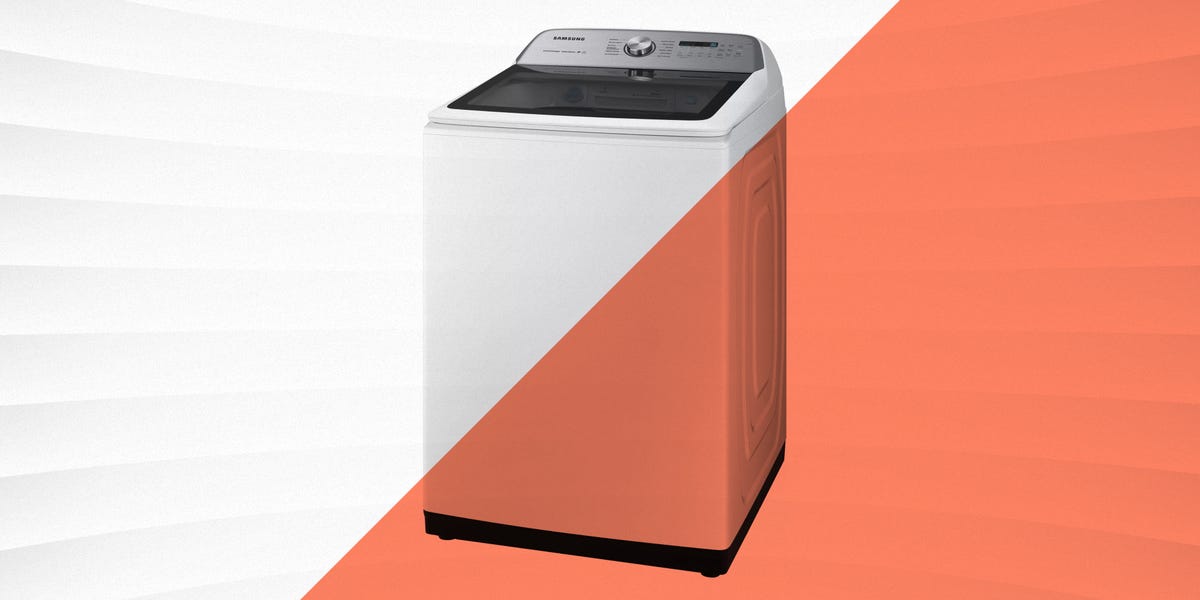 Staff, Courtesy of Samsung
When you're shopping for a the best new washing machine, one of the biggest choices you'll have to make is whether you want a top- or front-load model. While front-loading machines often feature more bells and whistles, there's still something to be said for a quality top-load washer.
Not only are top-load washing machines more affordable, but their cycles are typically shorter and they're more reliable and easier to repair. Plus, top-load washing machines are less likely to have mold or mildew problems, as they have better ventilation, and most perform just as well as front-load models in terms of effectiveness.
What to Consider
As you compare different top-load washing machines, there are several things to look at. First, you'll need to decide if you want an agitator or an impeller inside the drum—agitators (a central post) are typically cheaper and have faster wash cycles, but impellers (a low-profile cone or disc) are more efficient, spin more water out of clothes, and offer a larger capacity.
It's also important to consider the capacity of the unit. Washing machines with a capacity between 3 and 4 cubic feet can typically hold 12 to 16 pounds of laundry, while a larger-capacity model, usually over 4 cubic feet, can hold up to 20 pounds or more. There are also compact, portable models with 1 to 2 cubic foot capacities that can be used in small apartments and RVs. Other features to look for include Wi-Fi connectivity, detergent pod dispensing, and steam cleaning.
How We Selected
To find the best top-load washers for a variety of households, we considered several factors, including their capacity, features, and brand reputation. We read dozens of reviews from users, cross-referencing with insights from professional product testers. With all this information in mind, we selected washers of several different sizes and price points, aiming to provide a variety of options to suit every household.
Advertisement – Continue Reading Below
1
Best Overall
Samsung WA50R5400AV 5 Cu. Ft. Energy Star High Efficiency Top Load Washer
Samsung
wayfair.com
$699.00
This large high-efficiency washing machine from Samsung offers a number of features that are sure to be welcome in your laundry room. In addition to its spacious 5-cubic-foot capacity, it has an improved tub interior that extracts more water and prevents fabrics from snagging. A soft-close lid prevents it from slamming shut, and the Super Speed cycle can clean a full load of laundry in just over 30 minutes.
The Samsung Top-Load Washer is Energy Star certified, and it even has a built-in faucet that lets you pretreat stained clothes by pressuring a button. It has 12 wash cycles and five temperature settings, and its easy-access tub allows you to reach the bottom without standing on your tiptoes.
High-efficiency
Built-in stain pre-treatment
Soft-close lid
2
Best Value
GE Appliances GTW335ASNWW 4.2 Cu. Ft. Top Load Washer
GE Appliances
wayfair.com
$584.00
You'll be hard-pressed to find a better value than the GE Appliances Top-Load Washer, an agitator-style model that offers 4.2 cubic feet of drum space. It has a heavy-duty single-action agitator that washes clothes thoroughly, and its deep clean cycle offers 67% more cleaning power for those extra-dirty clothes.
The GE Washer has a precise fill feature to take the guesswork out of choosing a water level, and it offers 11 wash cycles and six temperature settings. It might not be the fanciest model out there, but it will get the job done without breaking the bank.
Affordable
Precise fill option
3
Best With Agitator
Kenmore 21112 4.7 cu. ft. Energy Star Top-Load Washer
Kenmore
amazon.com
$872.02
If you prefer a washing machine with an agitator, this model from Kenmore is an Energy Star-certified option. It has a triple-action agitator in its steel drum, which has a 4.7 cubic foot capacity, and the agitator has nine spray jets that blast laundry with a concentrated detergent mix.
The washer has a convenient pull-out dispenser drawer where you can add detergent, fabric softener, and bleach, and there's even a built-in water faucet where you can pre-treat stains. The spacious washer can accommodate up to 25 towels in a single load, and it has multiple deep fill options you can select via its LCD control panel.
Triple-action agitator
Energy efficient
Built-in faucet
4
Best for Detergent Pods
GE Appliances GTW720BPNDG 4.8 Cu. Ft. Energy Star Top Load Washer
GE Appliances
wayfair.com
$764.00
For those who prefer using detergent pods, this top-load washer from GE has a dedicated pod dispenser that pierces the pack with a water jet, helping to activate the detergent faster for optimal cleaning. The high-efficiency washer uses an impeller to clean laundry, and it even offers preset modifications to treat five common stains.
This washing machine has a spacious 4.8 cubic foot drum, and you can choose from 12 wash cycles and six temperature settings. Its dynamic balancing technology makes operation quieter than other top-load machines, and it can even be Wi-Fi enabled with the purchase of an additional part.
Detergent pod dispenser
Presets for stain treatment
Wi-Fi connectivity requires additional part
5
Best Large-Capacity
Samsung WA54R7200AW 5.4 Cu. Ft. Energy Star Top Load Washer
Samsung
wayfair.com
$944.10
This Samsung Top-Load Washer has an extra-large 5.4-cubic-foot capacity, allowing you to fit more laundry in every load. The high-efficiency model offers a number of useful features, as well, including a self-clean setting, soft-close lid, and built-in faucet for pretreating stains.
The washer is powered by an impeller, and it has a "Swirl+" tub design that extracts more water during the spin cycle. There are 10 wash cycles, five temperature settings, and five soil levels to choose from, and the Deep Fill option allows you to maximize the water level used, if desired.
Large capacity
Advanced features
6
Best Compact
Farberware FCW10BSCWHA 1 Cu. Ft. Top Load Washer
Farberware
wayfair.com
$226.95
For those who live in an apartment or small home, the Faberware Top Load Washer is an extremely compact option, measuring just 20 inches wide and 31 inches tall. It has a 1 cubic foot capacity and can hold 7 pounds of clothing at a time, and it still offers the convenience of digital controls and multiple wash settings.
The washer hooks up to your sink for operation, and its compact design can easily be tucked into a closet when not in use. It has seven wash settings, including heavy, speedy, and gentle, and it spins clothing at 800 RPM to extract as much water as possible—important if you air dry your laundry.
Compact
Numerous wash settings
7
Best Smart
GE Appliances GTW840CSNWS 5.2 Cu. Ft. Energy Star Smart Top Load Washer
GE Appliances
wayfair.com
$854.00
If you're looking for a smart appliance, this GE top-load washer has built-in Wi-Fi, giving you the ability to monitor and control its cycles from your smartphone and receive real-time notifications and updates. The Energy Star-certified design uses an impeller to clean clothing, and it has an intelligent dispenser that holds up to 48 loads worth of detergent and automatically releases the right amount for each load.
This washer offers 10 wash cycles and six temperature settings, and it has an integrated water faucet that can dispense water and detergent or just water, depending on your needs. The unit is designed for quieter washing and reduced vibration, and there's even a prewash option that will take care of pre-treating stains for you.
Wi-Fi enabled
Automatic detergent dispenser
Deep drum can be hard to empty
8
Best for Bedding
Kenmore 2622352 4.2 cu. ft. Top Load Washer
Kenmore
amazon.com
$645.00
For those hoping to clean bulky bedding in their top-load washer, this model from Kenmore has a dedicated cycle for these items, as well as a deep fill option. The unit has a triple-action agitator that keeps laundry moving for a more thorough clean, and there are 12 wash cycles and five water temperatures available.
The 4.2-cubic-foot stainless steel drum can hold up to 19 towels at a time, and its pattern is designed to avoid snagging fabrics. In addition to the various wash cycles, the washer also offers several rinse options, including single or double rinses with or without fabric softeners.
Ideal for bulky items
Triple-action agitator
This content is created and maintained by a third party, and imported onto this page to help users provide their email addresses. You may be able to find more information about this and similar content at piano.io
Advertisement – Continue Reading Below
Most Related Links :
newsbinding Governmental News Finance News