News
The Best Mini Fridges for Cold Drinks and Fresh Snacks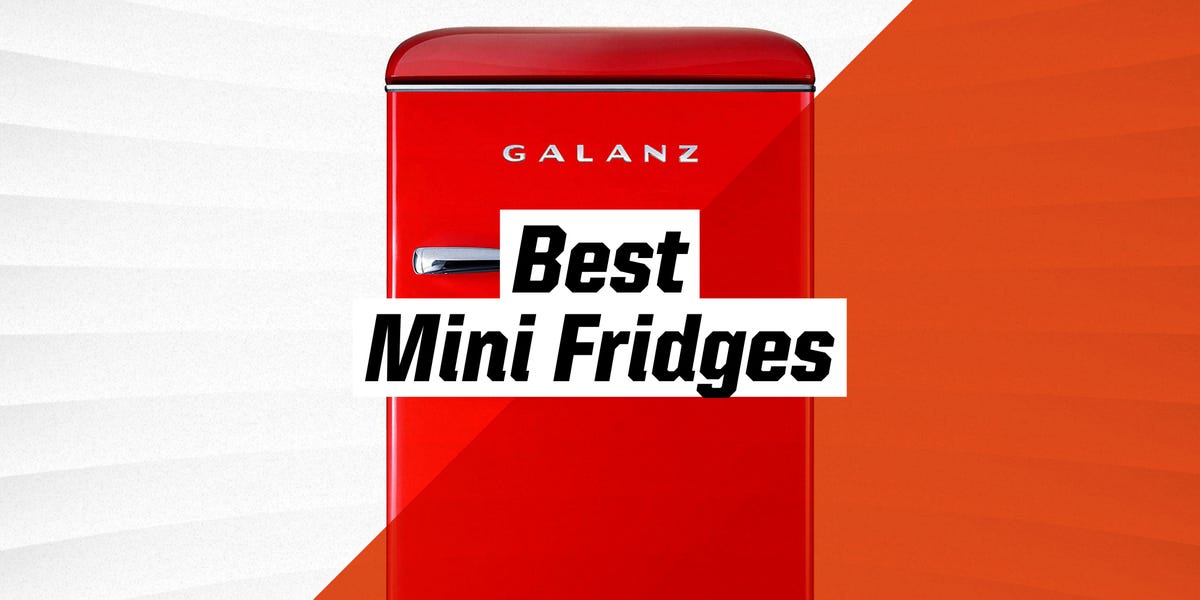 You know how it is—when the urge for a cold one strikes while you're putting a final coat of varnish on the deck or in the middle of an Xbox marathon, but you bag it because of the walk to the kitchen. There's a solution: buying a mini fridge for your basement, garage, or man cave. They're convenient and affordable, plus extra storage for drinks and snacks is always handy, particularly in summer, when the family tears through an entire Costco run of thirst-quenching bevvies in a weekend. Read on for our top recommendations of the best options on the market.
What to Consider
While some mini fridges are literally miniature versions of a full-size refrigerator, there are models specifically for cans of beer and soda, and for wine. After nailing down the fridge's primary purpose and overall dimensions, capacity, inside configuration, cooling power, and whether the door is reversible (many are) are the next-level considerations. Also, while mini fridges aren't typically loud, there are models that have an ultra-quiet rating of 45dB or less, if noise is an issue. Beyond that, it's all about aesthetics, from sleek and modern stainless steel options to mini fridges with retro vibes.
How We Chose
Our selection includes top-rated models in a range of styles, with ratings of four stars or more, plus we offer options in a variety of sizes, and across price points, from value to high-end. Features in mini fridges are minimal in comparison to full-size models; we highlighted the most essential, such as cubic feet, adjustable shelving, reversible doors and, when applicable, noise ratings.
Advertisement – Continue Reading Below
1
Our Value Pick
Black+Decker Mini Fridge
Black+Decker
amazon.com
$174.99
This stainless steel mini fridge is a solid choice all around, with a substantial 3.2 cubic-foot capacity, versatile shelving, and an ultra-quiet 45dB rating. It's also well-priced at $175 at the time of this writing and it gets high marks from customers, with nearly 875 reviewers giving it an average 4.6 stars. 
Inside, there's a manual temperature control dial and three tempered glass shelves, two of which are removable. There's also a small freezer with an ice tray, and compartments for cans and a 2-liter bottle of soda. The door has a recessed handle and is reversible, and there are adjustable leveling legs. The mini fridge comes in a black or white finish a well. 
2
Best Value With Separate Freezer
Danby Mini Fridge with Freezer
Danby
wayfair.com
$241.80
If you can spend a little more, it's nice to have a mini fridge with a separate freezer. This 3.1 cubic foot stainless steel option from Danby features just that, along with manual temperature control, and large crisper drawer at the bottom. There are also two tempered glass shelves and compartments for cans and a 2-liter bottle of soda. The reversible door has an integrated handle, plus the fridge is energy star-rated. The smudgeproof finish is a nice extra. 
The mini fridge also another customer favorite, with an average 4.7 stars from more than 200 reviewers.
3
Best Large Capacity
Black+Decker 4.3 Cubic Foot Mini Fridge
Black+Decker
wayfair.com
$209.97
This option is truly designed like a mini version of a full-size refrigerator, with three deep tempered glass shelves–two that are adjustable—a crisper drawer, and modular door bins. 
It has a generous 4.3-cubic-foot capacity and has a full-width freezer, and on the inside door there's a six-can compartment, plus full- and half-width door shelves for versatile storage space that can hold tall items and a 2-liter bottle of soda. The mini fridge is energy-efficient and the door is reversible.
4
Best for a Home Office
Nostalgia Retro Mini Fridge
Nostalgia
wayfair.com
$42.98
For a fun and practical addition to your home office, this mini-mini retro countertop fridge is sure to please—plus it doubles as a warmer for food and hot drinks, with a temperature range of 40 to 130 degrees Fahrenheit. 
It can hold up to six 12-ounce cans and has a removable shelf, plus a handle on top for restocking it in the kitchen. The write-and-erase board on the front of the fridge is a bonus. We love the matte black, but it also comes in eye-catching aqua.
5
Best for Cans
hOmeLabs 120-Can Mini Fridge
hOmeLabs
amazon.com
$304.97
This best-selling mini fridge can hold a whopping 120 cans, perfect for under the bar as a built-in or to use as an overflow fridge in the basement. 
The 3.1-cubic foot fridge has a see-through door with upscale appeal, and inside there's a bright LED light, three adjustable chrome shelves, and a digital touch pad temperature control in front. The mini fridge cools to 34 degrees Fahrenheit and there's a sensor for auto-defrost mode, plus the door is reversible.
6
The Wine Fridge
Antarctic Star Wine Mini Fridge
Antarctic Star
amazon.com
$214.99
Look no further if you're in the market for a sleek and modern wine fridge with a two-case capacity. This freestanding option's glass door is framed in high-gloss black and stainless steel, with a digital control panel on the front and a soft, blue LED light inside to showcase the bottles. It's also whisper-quiet, with a 38dB rating. 
You can customize the temperature from 40 to 61 degrees Fahrenheit, which is ideal for wine, and adjust the five chrome removable shelves to your liking. Keep in mind that this isn't intended for built-in use and the door isn't reversible.
7
The Retro Pick
Galanz Mini Fridge
Galanz
amazon.com
$249.99
This retro mini fridge and freezer combo is ultra-appealing, with polish chrome handles, a high-gloss finish, and rounded curves, plus it's available in sky blue, striking red, and soft mint green in addition to black. It has a 3.1-cubic-foot capacity with manual temperature adjustment, and features two tempered-glass shelves and a deep crisper drawer. 
The refrigerator door has a bin that can accommodate a 2-liter bottle of soda, plus there's storage in the freezer door, too. The fridge is also considerably quiet, with a 42dB rating.
8
Best for a Man Cave
Marshall Mini Fridge
Marshall Fridges
wayfair.com
$337.12
Here's another retro mini fridge to consider, though this one jumps ahead a decade, with 1960s vibes. It's made by ever-popular Marshall, known for its stylish speakers and other audio equipment, and gets rave reviews, with an average 4.8 stars from nearly 100 customers. It features authentic amp parts on the reversible door, with an all-black interior that has a 3.2 cubic foot capacity and mellow blue LED lighting. 
There's one half-size and two full-size shelves, and the door has a designed shelf for cans plus a spot for a 2-liter bottle. The lack of a freezer may be a drawback for some.
9
The Splurge
Summit Mini Fridge and Freezer
Summit Appliance
wayfair.com
$2,449.99
This high-end under-counter mini fridge can add an additional 4.8 cubic feet of food and beverage cooling to your kitchen. Its two deep drawers can convert from fridge to freezer depending on your needs, with a stainless steel front panel and two long, streamlined pulls. 
Temperature is digitally controlled and both drawers are lighted. There are also dividers in each compartment for keeping popsicles and frozen pizza organized.
This content is created and maintained by a third party, and imported onto this page to help users provide their email addresses. You may be able to find more information about this and similar content at piano.io
Advertisement – Continue Reading Below
Most Related Links :
newsbinding Governmental News Finance News