News
The Best Needle-Nose Pliers for Your Toolbox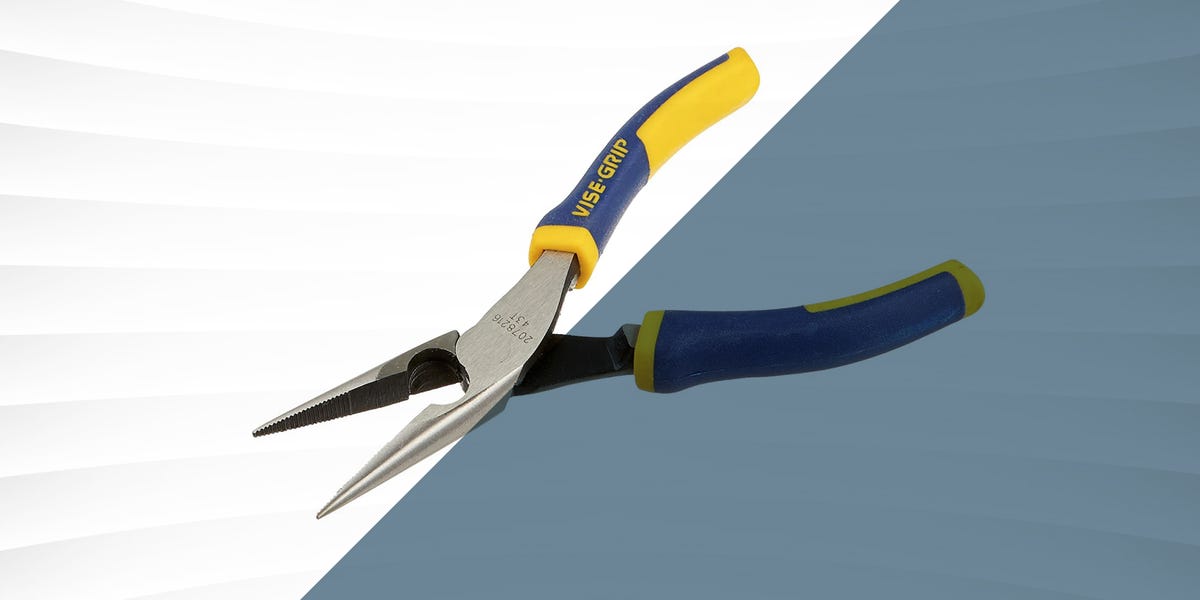 Unlike the short, stubby noses of typical pliers, needle-nose models feature narrow, tapered jaws with a pointed tip. This extended design means that while they're less effective at powerful gripping and pulling, they're more functional in other ways, like accessing hard to reach spots, grabbing and holding tiny workpieces, as well as small gauge wire work. Most options also feature a wire cutter at the bottom of the jaw, making them even more useful, especially with electricians.
Even though they might not be the most frequently used item, needle-nose pliers are an essential piece of a well-rounded toolkit.
What to Consider
If you're planning on using your pliers in tight or awkward areas like computers or cars, you might benefit from longer models that can easily reach deep into those spaces. If you're not, then shorter models can be more convenient, and won't take up unnecessary space.
For selecting and handling tiny objects, like making crafts, you would probably want to choose an option with as pointy of a nose as possible. On the other hand, if you know your pliers would be more useful as grabbers and pullers, a stubbier nose will give you more surface area to grip onto whatever you're working with.
When working with electrical wiring, you'll want to go with an insulated pair. The handles of these tools are thicker than typical options, and are constructed of layers of rubber and plastic, providing extra protection against accidental electrocution or arc flashes. They also feature finger guards, which help reduce the chances of your hand making accidental contact with the metal jaws.
How We Selected
Throughout my carpentry career I've had the opportunity to use a wide range of needle-nose plier brands and models. I used this experience to assemble this list of options, and did my best to include a variety of options that would be useful for anyone. Whether you're an electrician with safety in mind or just a casual DIY-er who wants to be ready for anything, you should find an option for you. I made an effort to keep the prices low, but excluded any extra-cheap options that wouldn't be worth the savings.
Advertisement – Continue Reading Below
1
Best Overall Option
KNIPEX Needle-Nose Pliers with Cutter
Key Specs
Length: 8 inches
Product Number: 24234
If you just want a reliable set of pliers for general use, this KNIPEX model is probably what you're looking for. Its hardened teeth provide a sturdy grip—without taxing your hands too much—and their offset design allows the jaws to close completely, which is a quality control feature not always found on needle-nose pliers. 
The dipped plastic handles provide a good grip while also maintaining a slim silhouette that can easily slide into a pocket or pouch, and the extra-sharp cutter will snip through wire and other materials quickly and easily.
Compact size
Offset teeth
2
Best Low Budget Option
IRWIN VISE-GRIP Long Nose Pliers
Key Specs
Length: 6 inches
Product Number: 2078216
These Irwin pliers provide similar features found on high-end models—cutter, interlocking teeth, rubber handles—but at a surprisingly low price. Their light, 4-ounce weight won't feel much different than other heavier models, but if you're carrying them on your tool belt all day, lighter is always better. 
Their nose isn't as long as most typical needle-nose pliers, but that shouldn't be a dealbreaker, and we sometimes prefer a stubbier option when we need to maintain an extra-strong grip. These probably wouldn't be durable enough for everyday use, but for the occasional user, they should be fine.
Low price
Rubber handles provide sturdy grip
Not as durable as higher-end pliers
3
Best Long-Reach Option
IRWIN VISE-GRIP Needle-Nose Pliers
Key Specs
Length: 11 inches 
Product Number: 1773584
These 11-inch Irwin pliers might not seem useful enough for the amateur DIY-er, but you might be surprised at how often their length will come in handy, especially when dealing with cluttered electronic cabinets, or awkward automotive compartments. Their 3/8-inch jaw thickness gives them a nice, sturdy grip on whatever you're grabbing, and thanks to their textured rubber handles, won't slip out of your grasp during use. 
Just like other Irwin tools, they come with a lifetime guarantee, so you are covered if any issues arise. Despite their length, these pliers are still narrow enough to easily store when not in use.
Can reach further than standard pliers
Lifetime warranty
May not be practical for very intricate projects
4
Best Insulated Option
KNIPEX Insulated Long Nose Pliers
Key Specs
Length: 8 inches
Product Number: 2618200SBA
If you plan on working around electrical wiring, you'll need a pair of insulated pliers to ensure you–and the components you're working on–are safe from accidental currents. 
This KNIPEX model is designed to reduce injury if it makes contact with up to 1000 volts, and the rubber handles provide a comfortable and secure grip. This ergonomic design also makes them ideal for non-electrical use as well. Their strong cutting jaws have a cutting capacity of 3/32 of an inch for hard wires, and their serrated gripping surface means you'll always have a nice tight hold on whatever you're working with.
High-quality construction
High-visibility color is easy to find
Insulated from electrical current
5
Best for Craft Use
KNIPEX Needle-Nose Pliers
Key Specs
Length: 6 inches
Product Number: 3111160
The extra-thin nose of these KNIPEX pliers make them perfect for intricate craft work, allowing you to pick out and grasp tiny beads and other components while still giving you a clear view of the pieces you're working with. Rubber handles give you a strong, sturdy grip too, something that will come in handy when placing small pieces or threading beads. 
They lack the gripping teeth of most other needle-nose pliers, though—likely to protect the pieces you're working with—so won't be ideal for more heavy-duty tasks that require a tighter grip.
Small nose is ideal for sorting and grabbing
Small size is easy to manipulate
Expensive
Does not have teeth
6
Best Plier Set
TEKTON 3-Piece Needle-Nose Pliers Set
Key Specs
Length: 6, 7, and 8 inches
Product Number: PGF99101
This Tekton set would be a great choice for anyone who wants to be fully prepared for any needle-nose plier tasks. It includes three different plier sets, including a pair with angled jaws that are perfect for accessing extra-awkward spots that straight pliers wouldn't be able to. 
All three pliers feature dipped rubber handles, which provides a sturdy grip without the bulky thickness of some other models. Crosscut teeth provide even more gripping power, and the induction-hardened cutting blades are designed to snip through both copper and aluminum material. 
This set is relatively expensive, but for three pairs of pliers, it's still a great value.
High quality construction
Slim handles for a comfortable grip
7
Best Vice-Grip Option
IRWIN VISE-GRIP Original Long Nose Locking Pliers
Key Specs
Length: 4 inches
Product Number: 1602L3
Vice-grip pliers are one of our favorite tools, and this needle-nose version has been a staple of our toolbox for years. Their locking jaws provide an extra-strong grip that would take more effort to achieve with traditional pliers. Its swiveling adjustment knob makes it easy to customize the jaw width to your specific job. 
This design makes them a bit less versatile though, and not as convenient for jobs that require you to locate and grab small items, as well as wire twisting tasks. We have experienced the cutter to be less accurate than we'd like though, so keep that in mind too.
Affordable price
Locking handle is great for strong holds
Less convenient for grabbing small items
8
Best for Fishing
RUNCL S1 Needle-Nose Fishing Pliers
Key Specs
Length: 7.5 inches
Product Number: S1
Needle-nose pliers are an essential piece of any tackle box, and this model is specifically designed with anglers in mind. Their jaws feature an impressive amount of useful bells and whistles too, like a ring splitter that allows you to easily open up rings to swap out hooks, as well as expand split weights. 
The tungsten carbide cutter will also come in handy when you need to trim a line or braid, and is side-mounted so you can see exactly what you're working on. Best of all, they have an expandable lanyard that can hook directly to your belt or jacket.
Lanyard prevents sunk pliers
Ring-splitter nose
Ergonomic handle
Not as useful for non-fishing use
This content is created and maintained by a third party, and imported onto this page to help users provide their email addresses. You may be able to find more information about this and similar content at piano.io
Advertisement – Continue Reading Below
Most Related Links :
newsbinding Governmental News Finance News