News
The Best Remote Control Cars for Kids of All Ages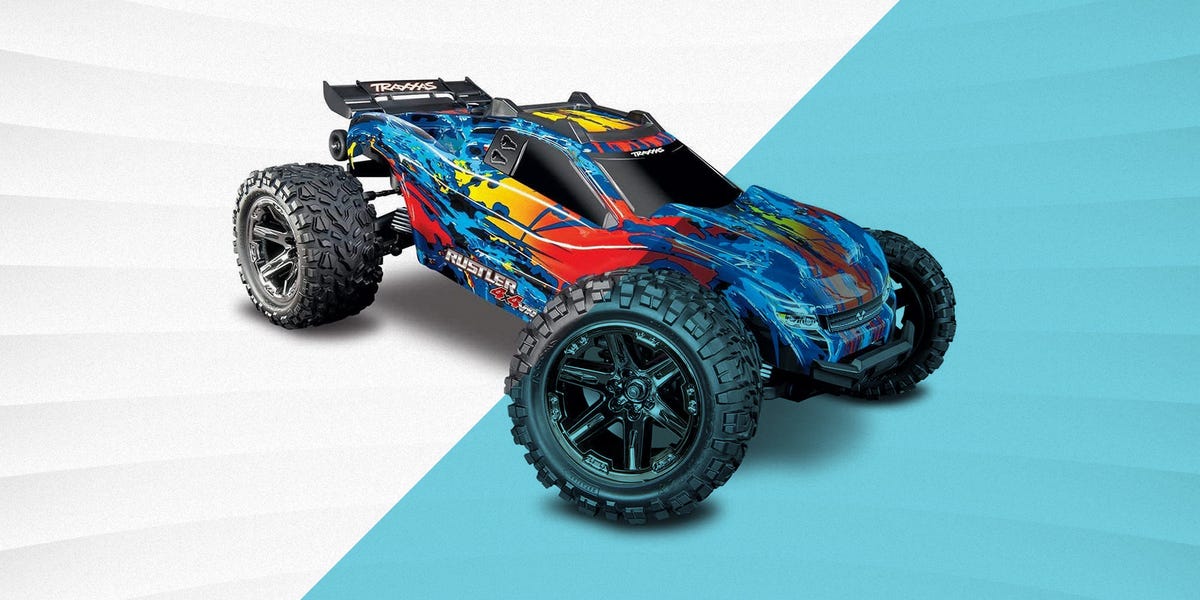 Staff, Courtesy of Traxxas
From monster trucks to speed demons that can clock 70 miles per hour, remote control cars deliver hours of fun, whether you're an experienced hobbyist looking to upgrade and splurge on a higher-end model or a parent searching for an activity to get your kid off the iPad. Luckily, you can get a taste of the action no matter what your budget, but with so many car types and models, it can be tough to choose the one that checks all your boxes. Read on for our top recommendations, as we combed the market for the best options to consider.
What to Consider
If you're new to remote control cars, (that's "RC cars" in pro lingo) you may see the initials "RTR" in the description, which stands for "ready to race." This means you can start playing with it right out of the box or after charging, with no extra parts required to get it up and running. Keep in mind that some cars are labeled RTR even though batteries are sold separately.
There are hobby-grade RC cars and toy cars designed for kids, with the later typically less expensive, though there are toy cars that offer impressive performance and a low price point. In terms of performance, there are several types of vehicles to choose from, including off-road 4x4s and buggies, rock crawlers, and racing drift cars, so you'll need to decide which you or your child will most enjoy. The scale that's listed represents the remote control car's size in relation to the real deal.
Speed varies depending on what the car is built to do. For example, rock climbers don't have to be incredibly fast to tackle boulders, but do need powerful high-torque motors, whereas you'll want a race car that can hit at least 35 miles per hour. Less expensive RC cars generally have a two-button remote control, and those on the higher end have 2.4GHz pistol-grip style remotes that have more advanced steering and throttle. Finally, if you do go for a high-end model, you'll want to make sure that replacement and upgrade parts are easily available.
How We Chose
Every remote control car we write about below has an average customer rating of at least 4 stars, and the majority of our selection include ratings of 4.5 stars or more. We cover a range of different vehicle types from top brands including Traxxas, Laegendary, Redcat Racing, and Arrma, and offer options across price points, from toy cars for $50 or less to midrange RC cars well under $200 to pricey models for experienced adult enthusiasts that cost upwards of $500.
Advertisement – Continue Reading Below
1
The Budget Pick
Off-Road Monster Truck 2WD Remote Control Car
Bezgear
amazon.com
$39.99
Key Specs
Dimensions: 12.6 x 5.1 x 8.9 inches
Scale: 1/14 
Top Speed: 12 mph
Car Battery: 6V 800mAh Ni-Cd
This well-priced off-road monster truck doesn't skimp on the details, with working roll bar headlights, a spare tire attached to the back cassis, and an aluminum body that can handle collisions at the truck's top speed of 12 miler per hour. The two-wheel-drive remote control car is larger than most at 1/14th scale and has a powerful motor to keep it rolling for up to 25 minutes on its all-terrain tires. Also, the 2.4GHz-frequency remote control works from a distance of more than 160 feet away. Expect about 2.5 to give the truck a full charge.
2
A Step Up
Traxxas Rustler 2WD Remote Control Car
Traxxas
amazon.com
$199.95
Key Specs
Dimensions: 17.5 x 12.25 x 7 inches
Scale: 1/10 
Top Speed: 35 mph
Car Battery: 7-cell NiMH or LiPo
While this zippy remote controlled car is quite a jump in price from our budget pick, the Traxxas 2-wheel-drive Rustler also offers fantastic value considering its lineup of features. For starters, it reaches a speed of up to 35 miles per hour on- or off-road through the rain and snow, as the car is completely waterproof. There's also a metal-gear transmission and remote with a grippy steering wheel to navigate tough turns, plus a built-in rechargeable battery.
3
The Splurge
Traxxas Land Rover Defender Remote Control Car
Traxxas
amazon.com
$557.00
Key Specs
Dimensions: 23.1 x 9.8 x 11.5 inches
Scale: 1/10
Top Speed: 6 mph
Car Battery: 6- or 7-cell NiMH or 2- or 3-cell LiPo
This all-metal remote control car is in a league of its own, designed as a mini replica of the Land Rover Defender. If you can digest the price tag and want the ultimate rugged trail crawler, look no further. In terms of style, it's highly detailed to match the real deal and you can take it through rain, snow, and sleet, as it has waterproof-sealed electronics. 
There's also a two-speed transmission to give it extra pep, cruise control, and portal axles that give it substantial ground clearance to prevent torque twist. More than 5,000 customers give it an average 4.7 stars. The only downside, though likely not a dealbreaker, is that the charger and batteries are sold separately.
4
Best for Beginners
Off-Road Monster Truck 4WD Remote Control Car
Double E
amazon.com
$54.98
Key Specs
Dimensions: 13.1 x 8.5 x 7.3 inches
Scale: 1/12
Top Speed: 4 mph
Car Battery: 2 6V 800mAh
For budding remote control car enthusiasts, it's tough to beat this 4-wheel-drive monster truck for easy operation, straightforward features, and a budget-friendly price tag. It has excellent battery life—expect it to keep rolling for 40 minutes—plus it has a USB-rechargeable battery pack. Like our budget pick above, this four-wheel-drive truck skews larger than most to immerse kids in the action, and also features shock-absorbers to handle all kinds of terrain and oversized anti-skid tires for climbing hills and obstacles with a 45-degree angle.
5
The Fat Monster Truck
Laegendary 4 x 4 Off-Road Remote Control Car
Laegendary
amazon.com
$169.97
Key Specs
Dimensions: 6.5 x 13 x 12 inches
Scale: 1/10

Top Speed: 31 mph
Car Battery: Li-Po 7.4V 1600mAh
Kids and adults alike will truly love playing with this monster truck. It'll tackle tough terrain for up to 40 minutes at a max of 31 miles per hour, and features large off-road wheels and a pistol-grip remote control that works up to 250 feet away. 
There are working LED headlights and it's painted in splashy colors, plus there are two speeds, which helps kids get the hang of it before hitting the gas at full throttle. The 4×4 truck runs on two rechargeable batteries, which are included.
6
Best Race Car for Kids
Bugatti Veyron Grand Sport Vitesse Remote Control Car
Key Specs
Dimensions: 11 x 5 x 4 inches 
Scale: 1/14
Top Speed: 15 mph
Car Battery: 5 AA 
With realistic details inside and out, working head and tail lights, and a controller that fits like a give in small hands, kids will squeal with delight over this mini Bugatti Veyron Grand Sport Vitesse. The remote control car comes in bright glossy orange and is made of thermoplastic rubber to withstand crashes and jumps off the coffee table. 
At 1/14 scale, it's on the large size, it can hit a top speed of 15 miles per hour, and it runs on five AA batteries, which aren't included.
7
Best for Drifting
Redcat Racing EPX Drift Remote Control Car
Redcat Racing
amazon.com
$185.91
Key Specs
Dimensions: 14.2 x 8 x 4.5 inches 
Scale: 1/10
Top Speed: 15 mph 
Car Battery: 7.2V 2000mAh NiMH
For adults who want the thrill of a race car that's capable of handing slides around bends, this drift car from Redcat Racing is an excellent choice. The slick-looking four-wheel-drive remote control car has smooth rear wheels and a lightweight plastic chassis for easy drifting and recovery, with a top speed of 15 miles per hour. 
It runs on a rechargeable battery, which is included, as is the charger.
8
Best For Wheelies
Traxxas Rustler 4×4 Remote Control Car
Traxxas
amazon.com
$429.95
Key Specs 
Dimensions: 13.5 x 22.7 x 7.7 inches
Scale: 1/10
Top Speed: 65 mph 
Car Battery: NiMH or LiPo
This beast may come with a high price tag, but few remote control cars out there offer better performance and a lightning-fast top speed of 65 miles per hour with an LiPo battery. 
It has a durable, aerodynamic body, powerful four-wheel-drive, extra-large wheels with superb grip. The car's impressive design allows you to easily pop wheelies with a twist of the throttle, and the car features a rollover protection system to right itself in case you flip upside-down.
The battery and charger aren't included, which is a downside considering the cost, though not uncommon among top-tier cars in this class.
9
Best Toy Stunt Car
Kids Stunt Remote Control Car
Orrente
amazon.com
$26.99
Key Specs
Dimensions: 10 x 8 x 4 inches
Scale: 1/24

Top Speed: 4 mph
Car Battery: 3.7V 500 mAh
Kids can get the same thrill of extreme performance with this top-rated stunt car. The two-stick controller is easy to use for doing 360-degree spins, flips, and negotiating all sorts of terrain indoors and out, including sand, rocks, and grass. 


The 4×4 vehicle also features two motors and working LED lights, plus the remote has a range of more than 130 feet. Also, you can't beat the price, at under $30 at the time of this writing.
10
The Speed Demon
Arrma Typhon 6S V5 4WD BLX Buggy
Key Specs
Dimensions: 26 x 14.2 x 10.75 inches
Scale: 1/8
Top Speed: 70+ mph
Car Battery: 6S LiPo
If you have a fleet of remote control cars, better pull them to the curb to let this speed demon whiz past. Few other options on the market can match a top speed of 70 miles per hour, though you'll need to install a 6S LiPo battery and optional pinion gear to get there, which are sold separately, as is the charger.
Arrma's Typhon buggy is built to bash, with a front brace that can handle high-velocity crashes, plus it features Spektrum components, including a 2050Kv brushless motor, a three-channel radio, and metal-geared digital servo.
11
The Rock Crawler
Danchee RidgeRock Remote Control Car
Redcat Racing
amazon.com
$119.99
Key Specs
Dimensions: 18 x 11 x 11 inches
Scale: 1/10
Top Speed: 10 mph
Car Battery: 7.4v 1500mAh Li-ion
This rock crawler gets rave reviews, with an average 4.8 stars from more than 1,100 customers. For an incredibly affordable price, the  remote control car offers all-wheel-drive, two high-torque brushed electric motors, and front and rear multi-link suspension, plus four-wheel independent steering. 
Details include a roll cage, off-road tires, and bedlock rims. There's also a three-channel 2.4GHz pistol-grip radio transmitter. The package includes a 7.4v 1500mAh rechargeable battery pack along with a USB battery charger.
This content is created and maintained by a third party, and imported onto this page to help users provide their email addresses. You may be able to find more information about this and similar content at piano.io
Advertisement – Continue Reading Below
Most Related Links :
newsbinding Governmental News Finance News