News
The Best Window Fans to Keep You Cool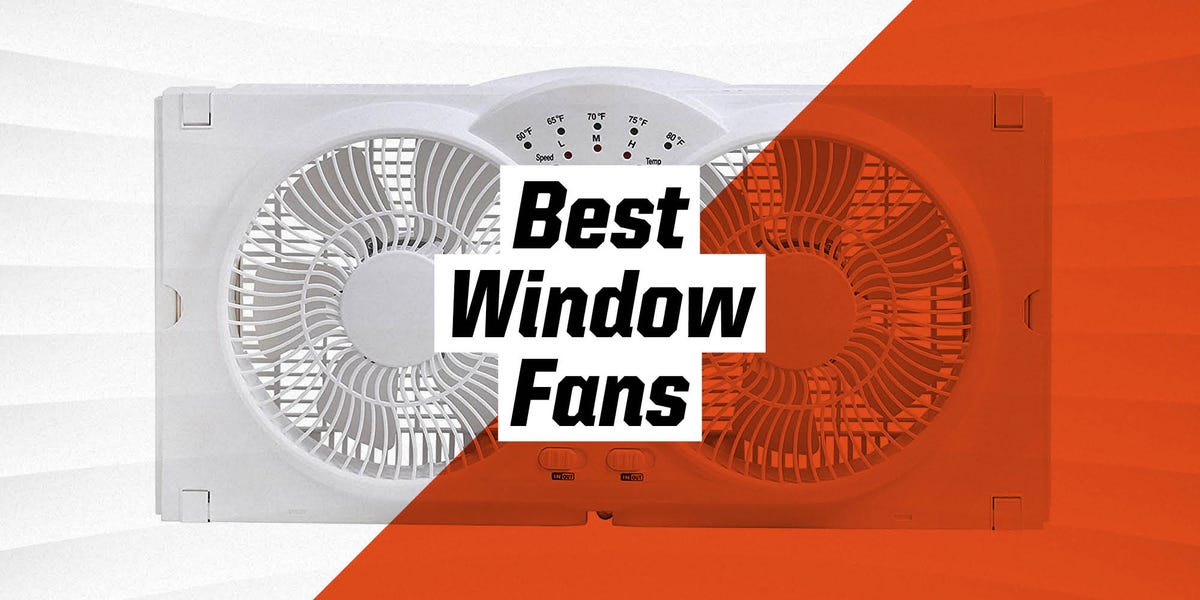 Window fans are designed to fit conveniently into your existing window frame, and are a great alternative to bulkier box fans that can take up valuable floor space. In addition to a basic fan setting that blows outside air into the room, most options also feature an exhaust mode that pushes interior air outside. This makes them great for rooms that have stale or musty air that needs to be circulated. Keep in mind though, if you ever need to close the window—like when the temperature outside drops in the fall and winter—you'll usually need to remove the fan entirely.
What to Consider
Obviously the first thing to consider when choosing a window fan is whether or not it will fit in your window frame. If you have a window that will require you to orient the fan vertically, make sure it's able to do that as well. You should also think about whether or not you want any kind of temperature settings on your fan, although it's worth noting that these settings might not deliver the powerful air blast you might expect. If you're looking to really cool down your space, you might want to consider purchasing an AC unit instead.
How We Selected
We've used a variety of window fans over the years, in several different home and room types around the country. We used this experience, in addition to comprehensive online research, to curate this list of fans, make sure to include a balanced mix of twin and single bladed models, since some users may have different priorities when it comes to more functionality versus more focused power. We also wanted to include a mix of prices, regardless of fan style, so whatever your budget you should be able to find an option that works best for you.
Advertisement – Continue Reading Below
1
Best Lightweight Option
Comfort Zone CZ310R Window Fan
The convenient circulation setting on this Comfort Zone model propels each of the two fans in a different direction, removing stale air and replacing it with a fresh outdoor supply.
A single control button allows you to easily scroll through its three speeds, and the included remote lets you control the entire unit from across the room. Its accordion expanders are designed to fit frames from 23.5 to 37 inches wide, which is sufficient for the majority of residential windows. The removable screen is a nice feature, reducing the chances of bugs or flies entering through the opening.
Affordable price
Weighs under 7 pounds
Not the most powerful option
2
Best with digital thermostat
Holmes Dual 8″ Blade Twin Window Fan
By including five temperature settings, this model provides considerably more customization than your typical window fan. It can be programmed to generate temperatures from 60 to 80 degrees, in 5-degree increments, and also includes the option of either low or high power modes. It can also be placed vertically in slider windows, as well as horizontally in standard double-hung and slider frames. 
Its water-resistant motors also make this model less likely to fail due to moisture issues on rainy days, but if you're still concerned about durability, the 3-year limited warranty should help a bit. 
Quiet operation
Adjustable screen
3
Easiest Operation
Lasko Electrically Reversible Window Fan
The solid expandable side panels of this fan make for a sturdier unit than the accordion expanders of other fans, and the 14-pound weight is light enough to handle without much effort. It's also convenient in the case of inclement weather, since its Storm Guard feature allows you to close the window behind it while still keeping the fan mounted in place.
It's capable of switching between intake and exhaust fans, and could be used in a single room, or to regulate the air in a small home. It is limited to windows 34.5 inches wide, so keep that in mind when ordering.
Straightforward operation
4
Best Smart Fan
ASPEN Smart Window Dual Fan
The 24-hour timer of this fan is what really separates it from the competition, allowing users to program it to turn on and off whenever is convenient for them. It also features an impressive amount of functionality, with settings to adjust its airflow direction, temperature, and fan speed. Not only does this window fan include a remote, its Wi-Fi compatibility allows you to control it using your mobile device, Alexa, or Google Assistant. 
We also appreciate the ease that this fan can be disassembled, making it easy to clean, avoiding those unsightly dusty blades. 
LCD screen
Digital thermostat
5
Best for Large Rooms
Air King 9166F Whole House Window Fan
Air King
amazon.com
$171.92
The powerful 120-volt motor of this fan can move up to 3,560 cubic feet of air per minute, making it useful for larger areas that weaker fans wouldn't be able to handle. The heavy-duty industrial construction makes this an especially durable option, with powder-coated steel blades and grill. Plus, the convenient 7-foot cord makes it less likely for this fan to require an extension cord, which is always nice. 
At just 8.16 pounds, it's also lighter than we would expect for such a robust model, making it a suitable choice for someone who might not have the strength to wrangle a heavier fan. 
Storm guard
Three speeds for both intake and exhaust functions
6
Most Versatile Option
Genesis Twin Window Fan
Genesis
amazon.com
$49.99
Our favorite feature of this Genesis fan is its portability. With a carrying handle molded into the rear of the unit, you can easily carry it from room to room, and the two removable legs also allow it to be used as a freestanding unit and placed on a table or countertop. The built-in thermostat allows you to select four temperatures settings, from 60 to 80 degrees, and uses bright LEDs to indicate when it has reached your selected temp. The side panels extend to fit window frames 37 inches wide, and the blades are 9 inches in diameter. 
Fits vertically
Reversible airflow
7
Best Exhaust Fan
SAILFLO Exhaust Shutter Fan
SAILFLO
amazon.com
$45.99
Capable of moving 294 CFM, the power of this fan makes it well-suited for areas with serious exhaust needs, like steamy bathrooms, stuffy attics, or even smoky rooms. The four louvres on the rear of the unit remain closed when the unit is not in use, and help block debris or insects from getting inside. 
This fan isn't as convenient to mount in your window as our other picks, so you may need to get creative and build a wooden frame to secure it in place. Its light, 4.24-pound weight makes this mounting process a bit easier, though. 
1100 RPM speed
Simple operation
40dB noise level may be too loud for bedroom use
8
Best Box Fan Option
Hurricane Box Fan
Hurricane
amazon.com
$29.95
It's not exactly designed to, but this box fan can still technically fit inside a window frame, making it a useful choice for those looking for something with a bit more flexibility than a typical window fan. Its cord also fits conveniently into the unit itself, which makes this model great for those who prioritize easy storage and don't want to wrangle cords every time they want to use it. It doesn't have the bells and whistles of some of our other models, but its low price and powerful 1100 RPM motor make it a valuable option. 
Adjustable feet
Light weight
Lacks a remote control
Lacks expandable side panels to make a tight fit
This content is created and maintained by a third party, and imported onto this page to help users provide their email addresses. You may be able to find more information about this and similar content at piano.io
Advertisement – Continue Reading Below
Most Related Links :
newsbinding Governmental News Finance News