News
These 10 Highly Rated Steam Mops Blast Through Grime Without Chemicals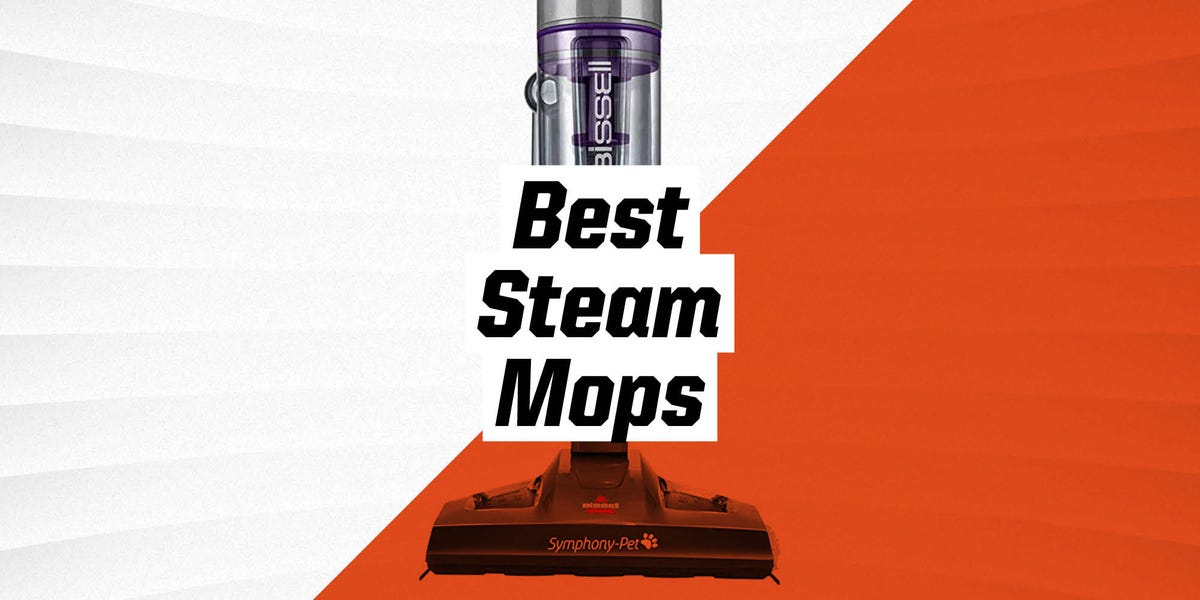 Pair a mop with a bucket of grey, sudsy water and you've got a chore that no one wants to take on. Pair a mop with steam, and suddenly, cleaning happens in half the time, with none of the mess. Steam adds power, pizzazz and speed to mopping, by loosening dirt and grime to leave your floors spick and span, no wringing or bucket required. Steam mops work by heating water inside their tanks to temperatures of about 248 degrees; when the steam emerges, it cleans and disinfects floors, without any harsh chemicals. A pad is placed underneath the jet of steam to absorb and trap dirt.
What to Consider
Steam mops come in many different shapes and sizes. Depending on the size of your home, a smaller or larger water tank capacity may be better, so keep that in mind. Steam mops work with just water, but some include scent discs. Finally, if you plan on using the steam mop to disinfect your floors, look for a model that provides bacteria-busting power (all of our selections do). Some steam mops also come with extra accessories, which can help you streamline and speed up your cleaning routine.
How We Selected
We reviewed hundreds of products, keeping various needs in mind. We have included a range of models below, with notes on bells and whistles and features of interest. All of our final choices received top reviews from users and critics, and hail from companies with excellent reputations and customer service.
Advertisement – Continue Reading Below
1
Best Overall
BISSELL Power Fresh Steam Mop
Bissell
amazon.com
$89.00
This mop eliminates 99.9% of germs and bacteria. It is also one of the easiest and most effective models of steam mops. The mop features swivel steering and a 23-foot power cord, which gives users plenty of room to maneuver; it also comes with three built-in settings to choose from—high, medium or low—depending on cleaning needs. It works with water alone, but also comes with fragrance disks. 
One of Amazon's almost 30,000 enthusiastic reviewers wrote, "I just put the Bissell steam mop through its paces and I'm moved to write a scintillating review. It arrived today and took all of five minutes to assemble. So simple a caveman can do it. At the increased setting the mop turned into a dirt-busting dervish with nothing standing in its way."
2
Best for Bathrooms
Shark S3501 Steam Pocket Mop
This mop cleans and sanitizes 99.9% of the germs away. The mop has a 15-ounce water tank, features swivel steering, and steams on demand when users pump the handle, ensuring the right amount of steam every time. The hands-free model allows users to press a button and release the dirty mop pad into the hamper; it also features three steam modes, including a steam blaster option for problem areas. 
Many users especially love this steamer for cleaning bathrooms and other high-traffic areas. One enthusiastic reviewer dubbed it a "game changer. It's super easy to use and quickly cleans even my filthy front entrance."
3
Best Accessories
Bissell PowerFresh Lift-Off Pet Steam Mop
Bissell
amazon.com
$149.99
$129.00 (14% off)
This powerful mop does it all without chemicals, making it pet and kid-safe. The lift-off model features a two-in-one mop, that allows you to tackle messes on the floor and … everywhere else. There's the classic warm-up steam mop, with a handheld steam cleaner as a bonus. 
This model includes the mops, a microfiber soft pad, a microfiber scrub pad, an attachable water cup; all told, 13 tools are included. This mop eliminates 99.9% of germs and bacteria, has a 16-ounce water tank and a 25-foot cord.
4
Most Versatile
BISSELL Power Steamer 3-in-1 Steam Mop
Bissell
amazon.com
$159.99
This three-in-one high-powered steam mop eliminates dirt, grease, grime and even mold across a wide variety of surfaces inside and outside. It can be used anywhere in the house, garage or workshop, and even outside and inside cars, boats and windows. The upright steam cleaner can be transformed into an extended reach steam cleaner and a handheld. 
This water-only model eliminates 99.9% of germs and bacteria, with a variety of steam modes and an on-demand trigger for an extra burst when needed. One user enthused, "I never give a perfect score, but I am obsessed with this steam mop multi-tool! I got my windows so clean I am afraid someone may run into the sliding door!"
5
Best Budget Steam Mop
LIGHT 'N' EASY Floor Steamer
LIGHT 'N' EASY
amazon.com
$54.99
This lightweight steamer (3.5 pounds without water) is a great option for people who want results, something simple to assemble, and an easy to maneuver model. This mop features a flexible head and a 20-foot-long cable. 
Reviewers note that the cord is too short and the mop head does not swivel, so for those with larger areas to clean, this may not be the choice for you. 
6
Best for Pets
Bissell Symphony Steam Mop Vacuum Cleaner
Bissell
amazon.com
$219.99
This device is equal parts steam mop and vacuum cleaner, making it ideal for busy families with pets and little ones running around. It comes with disposable pads for when messes belong in the trash, and washable microfiber pads when it's just the usual dirt and grime. The powerful vacuum sucks up pet hair and dirt. The water-tank capacity is 12.8 ounces, and steam on demand is available for big messes. 
One enthusiast gushed, "It's absolutely *brilliant* being able to steam mop and vacuum all at once. And yes, the handle can be adjusted to go under tables, under beds, etc."
7
Professional Grade
Dupray Neat Steam Multipurpose Steamer
Dupray
amazon.com
$199.99
$149.78 (25% off)
For folks with industrial-size messes on a large scale, this professional-grade cleaner will take care of serious problems in big areas. The capacity tank is huge (54 ounces), providing 50 minutes of time per fill-up. No additions necessary, just water. This mop steam-cleans and eliminates 99.9% of bacteria. It does not come with a cloth, and can be used with any regular towel or cloth. 
The mop features a retractable handle, a 6-foot-6-inch hose and a 16-foot cord, with a 17-piece tool kit that will take on a variety of nooks and crannies, including floors, windows and tricky corners. 
One reviewer wrote, "I was so amazed and just shocked how easy it was to use and how fast the white grout was appearing from underneath all that black dirt … I also used this cleaner on my barbecue cooking grids, and the grids were like new, all shiny and silver!"
8
Best for Tough Corners
O-Cedar Microfiber Steam Mop
O-Cedar
amazon.com
$71.51
This steam mop has become a top pick for its overall cleaning abilities, relatively low price and its shape. The triangular, swivel-head mop allows users to really get into tough nooks and crannies, without extra equipment. The mop only uses water, but kills 99.9% of bacteria, leaving floors sanitized and shiny. The mop comes with microfiber, washable pads. 
One reviewer wrote that they "couldn't be happier with my steam mop. It produces a lot of hot steam quickly after turning the unit on and will clean two medium-sized rooms on one full tank of water."
9
Best for Tough Spots
Bissell Sapphire Powerfresh Deluxe Steam Mop
This is a great steam mop all around, sanitizing 99.9% of all germs and bacteria with just water. But it is especially effective at steaming away tough, sticky messes, with an on-board spot boost brush. The 12-ounce water tank is easy to fill with a measuring cup included, and the 25 feet of cord gives users a lot of room to move. The mop has flexible swivel steering, comes equipped with three steam levels and includes the washable scrub pad and a washable soft mop pad, plus two scent discs. 
One reviewer gushed, "I actually feel legitimate love for this inanimate object. I have steam-cleaned my entire house in the last 24 hours and I cannot believe how dirty everything actually was!! Even things I thought had been cleaned well."
10
Ultra-Long Cord
OApier S15 Multipurpose Steam Cleaner
OApier
amazon.com
$149.99
This steam mop provides three levels of power to choose from, and eliminates dirt, grime and 99.9% of bacteria with just water alone. The mop also comes with an ultra-long, 30-foot power cord which allows users to clean large spaces without swapping outlets. The all-in-one steamer comes with three power levels and also features a removable handheld option for cleaning furniture, windows and tables. 
The package includes three microfiber pads, a flat head cleaning tool, a flexible hose, a jet nozzle, two round brushes and a measuring cup.
This content is created and maintained by a third party, and imported onto this page to help users provide their email addresses. You may be able to find more information about this and similar content at piano.io
Advertisement – Continue Reading Below
Most Related Links :
newsbinding Governmental News Finance News