Tech
The Best Handheld Spotlights for Your Home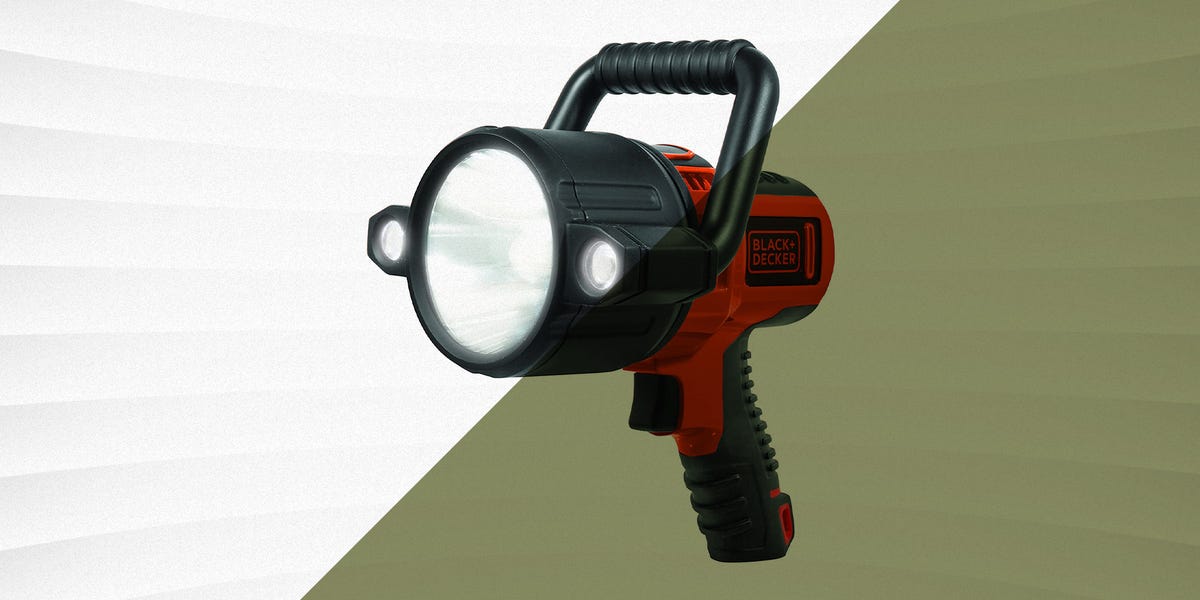 Staff, Courtesy of Black and Decker
While a good flashlight definitely has its place in a home tool collection, if you need maximum power and wide illumination, you're probably going to want a spotlight. These powerful lights are designed to be comfortable to hold for long periods of time, with dedicated handles that make them easy to carry around. Their wide lens and bright lumen output also makes them great for having on hand for emergencies, and can usually illuminate a wider area than smaller flashlights. Some spotlights even include a stand that allows you to place them on the ground, angle them at your workspace so you can keep your hands free.
What to Consider
The most important thing to consider when choosing a spotlight, is which power supply option is best for you. Those that take replaceable batteries might not be the most convenient, and you'll have to either purchase new batteries when they run out, or buy rechargeable ones. That said, since you're not relying on exterior power, they're also more practical if your home loses power or you're on a boat or camping. After all, your rechargeable light isn't much use if there isn't a power supply to plug it into.
If you're going to be using your spotlight around any liquid, you're going to want to go with a model that has an official IPX rating. This rating denotes how effective your spotlight will be at protecting its internal components against water or dust. Hypergear has an effective explainer to help you understand precisely what the specific IPX ratings mean–the higher the rating, the better. If you're going to be using your spotlight on a boat, you'll definitely want to go with one that can survive being totally submerged in water.
How We Selected
We did extensive online research when considering options for this list, and used personal experience with spotlights as well. We took this insight into account when evaluating different spotlights, and compared them using factors like durability, water resistance, and lumen output to make our final picks. We also excluded a large number of options that had either especially poor reviews, or were manufactured by questionable companies that made it difficult to determine their legitimacy. Finally, we did our best to include a good range of prices in our list, from options under $30, to above $100.
Advertisement – Continue Reading Below
1
Best Low-Budget Option
Energizer LED Spotlight
Energizer
amazon.com
$26.22
Key Specs:
Lumen: 600
Waterproof: IPX4
Weight: 1.06 pounds
Runtime: Up to 6 hours, 15 minutes on high; up to 22 hours on low
This affordable Energizer spotlight is designed with durability in mind, featuring a rugged body that claims to withstand drops up to 7 meters high. Its IPX4 waterproof rating makes it suitable for use around liquids, and won't be affected by water splashing in any direction. 
Its flat head also allows you to use it as a lantern by placing it on a table or the ground. The included lanyard loop lets you hang it from a hook when you're not using it, or from a carabiner on your belt loop. It does require six AA batteries, so just keep that in mind.
Long running time
Durable construction
Low price
2
Best Rechargeable Option
STANLEY FATMAX SL10LEDS
Stanley
amazon.com
$50.69
Key Specs:
Lumen: 2200
Waterproof: N/A
Weight: 1.4 pounds
Runtime: 7 hours on low; 1 on high
If you're looking for maximum brightness at a reasonable price, the Stanley FatMax and its 2,200-lumen output could be just what you're looking for. Its battery will stay charged for up to 12 months, making it well-suited for keeping in an emergency kit, and has a runtime of up to 7 hours on its lowest setting. 
Our favorite feature of this spotlight is its collapsible pivoting stand, which combined with its locking trigger, makes it easy to place it on the ground and angle directly at your work area. A USB port also allows you to use it as a power source to charge your mobile device.
High lumen output
Includes car charger
3
Best Heavy-Duty Option
DEWALT 20V MAX DCL043
Key Specs:
Lumen: 1,500
Waterproof: N/A
Weight: 1.42 pounds
Runtime: 4 to 13.5 hours
You'll have to supply your own DeWalt battery, but if you already have a few on hand, this light would be ideal for those looking for a heavy-duty model. 
The built-in belt hook also makes it easy to use hands-free, and the rugged, over-molded lens cover reduces the chances of damage for accidental drops and falls. It's more expensive than most options though, especially considering that it doesn't include a battery, but its high lumen output and rugged construction could make it a good choice for the right user.
Durable construction
Adjustable handle
Does not include battery
Heavier than similar options
4
Best Rechargeable Option
Energizer Rechargeable
Energizer
amazon.com
$26.22
Key Specs:
Lumen: 600
Waterproof: IPX4
Weight: 1 pound
Runtime: 4 hours on high; 9 hours on low
This spotlight offers convenient USB charging capabilities, and the included cord is stored inside the unit itself, so you'll always have it on hand when you need it. It also has two different light modes, the most powerful of which can be seen over 1,000 feet in front of you.  
Weighing just 1 pound, this model would be an ideal choice for anyone who wants to avoid lugging around a heavier model. This spotlight is also fairly durable, and is rated to handle drops of up to 3 feet, as well as water splashes from any angle.
Low price
Rechargeable battery
5
Best for Maritime Use
BLACK+DECKER WPAK5B
BLACK+DECKER
amazon.com
$32.23
Key Specs:
Lumen: 500
Waterproof: Up to 6 feet
Weight: 2.3 pounds
Runtime: 10 hours on low 
If you're looking for a spotlight to use on your boat or dock, this Black+Decker model and its waterproof body could be a perfect choice. It can be submerged up to 6 feet deep without being affected, and also floats light-side up if dropped overboard, which makes it much easier to locate. 
Its six AA batteries might not be the most convenient though, so consider that if you're looking for a rechargeable lithium-ion option. This spotlight is also smaller and more compact than most other models, which makes it a valuable choice for those short on space.
Waterproof
Affordable price
6
Best for Frequent Use
Streamlight Waypoint
STREAMLIGHT
amazon.com
$54.93
Key Specs:
Lumen: 1,000
Waterproof: IPX8
Weight: 2.2 pounds
Runtime: 3 hours on high; 80 hours on low
It's more expensive than the other options on this list, but if you need an ultra-bright, waterproof light, this model could be worth the price. 
Its IPX8 rating means that it can be totally submerged in water for up to 30 minutes, and with a 1,000-lumen output is visible up to 2,200 feet away. Its C4 LEDs have a 50,000 hour lifespan, and the lithium-ion battery can be recharged up to 800 times. 
An adjustable rotary switch also makes it easy to scroll through the three separate power outputs, from 35 to 550 to 1,000 lumens.
Floats if dropped in water
High-impact housing
7
Best Multi-Purpose Option
LE Rechargeable LED
Key Specs: 
Lumen: 1000
Waterproof: IPX4
Weight: 1.87 pounds
Runtime: 4 to 5 hours
This LE model features both a front-facing spotlight as well as a large side-lantern, making it a versatile, multipurpose option. The bright green color makes it easy to spot quickly in case of an emergency, and the 1,000-lumen light can be switched to a low, 400 lumen beam when you don't need as much power. 
A separate light on the side of the unit also functions as a red emergency light, which would come in handy if you need to warn other drivers during nighttime roadside repair. 
An LED battery indicator also lets you know how much juice you have left before you need a recharge.
High-visibility color
Three different light options
8
Best for Maximum Visibility
Lylting Rechargeable
Key Specs:
Lumen: 90000
Waterproof: IPX5
Weight: 1.43 pounds
Runtime: 5 hours on high; 8 hours on medium
Our favorite feature of this super bright spotlight is its versatile handle, which can be easily converted into a tripod. This makes it useful for extended tasks that would benefit from a fixed light source. This spotlight can be conveniently charged using its USB port, which can also do the same for any mobile devices as well. 
Its powerful beam is capable of blasting out 90,000 lumen and can cover a distance of 500 yards. We're also big fans of its four beam modes, including a strobe function that you won't find on most spotlights.
Tripod handle
Powerful lumen output
This content is created and maintained by a third party, and imported onto this page to help users provide their email addresses. You may be able to find more information about this and similar content at piano.io
Advertisement – Continue Reading Below
Most Related Links :
newsbinding Governmental News Finance News