Tech
These Kitchen Trash Cans (Almost) Make Cleaning Up Fun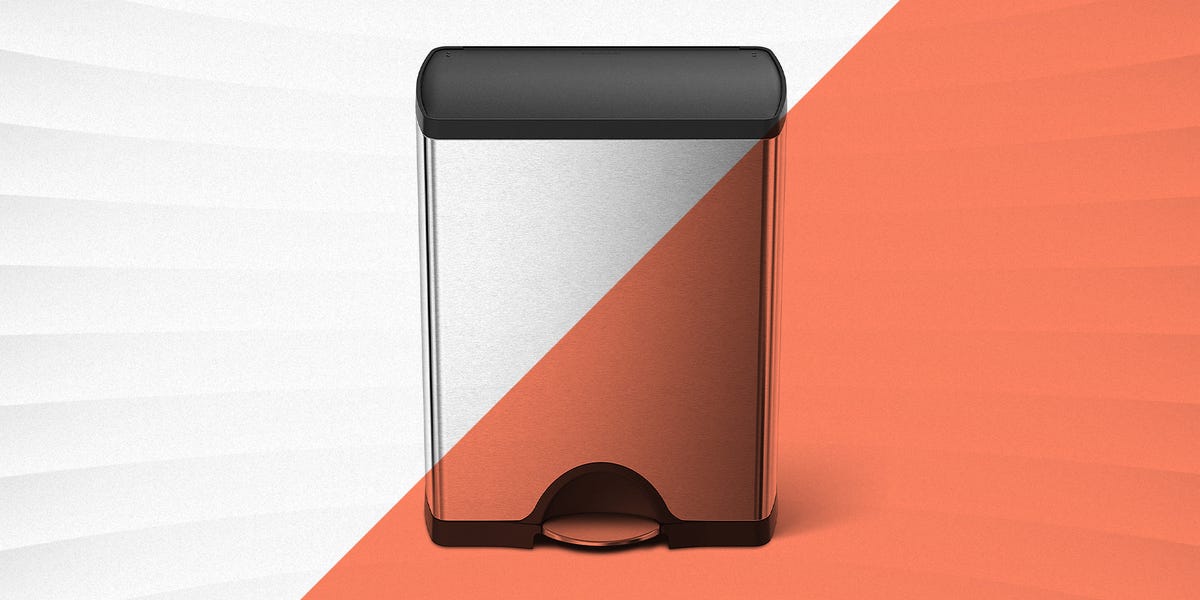 Staff, Courtesy of SimpleHuman
Trash cans have a dirty job to do, but it doesn't mean they can't look good doing it. Your standard kitchen trash can has come a long way, and these days, an array of stylish, high-tech, and super-efficient vessels are available for all of your garbage storing needs. Go forth and clean up!
What to Consider
Trash cans seem pretty basic, but there are a host of features you might want based on your individual needs. Keep the below in mind, and you'll be well on your way to a happier kitchen life.
What type of can is right for your kitchen?
There are a number of ways to put trash in the can itself. You can opt for the foot-pedal model, an in-cabinet pull-out vessel, a swing top, or a motion-activated garbage can. Here are some other factors to consider.
Size: Depending on the size of your family, and the amount of garbage you produce, you may want a small, regular or extra-large can. Keep in mind that smaller cans will need trash to be taken out faster, yet you'll avoid smelly garbage. If less frequent trips to your outdoor garbage can is ideal for you, then opt for a larger model.
Odor: Some garbage cans come with built-in odor control, which is especially useful if you have wee wee pads or diapers to dispose of.
Recycling: A few of our selections feature dual garbage/recycling options, so it will be even easier to dispose of your plastics, glass, and metal.
How We Selected
We reviewed hundreds of garbage cans, analyzing specs and various features to provide the best options that suit a variety of needs, at several different price points. We also reviewed other experts' assessments and read through many consumer reviews. Finally, we only include well-regarded options from reputable companies.
Advertisement – Continue Reading Below
1
Best Overall
simplehuman 10-Gallon Step Trash Can
simplehuman
amazon.com
$99.98
This simplehuman trash can has an average of 4.8 stars from more than 11,475 users. It features a strong steel pedal engineered to withstand 150,000 pushes, or more than 20 openings a day for 20 years. The patented silent-close lid will stay open for as long as you like, a nice option for busy home cooks. The stainless steel finish is fingerprint-resistant, too. 
While simplehuman sells custom garbage can liners, experts and users say regular store-bought bags work great (for a lot less cash). 
One reviewer raves, "This is exactly what I was looking for. This can is compact, functional and very well built. It looks 1,000 times better than my old can and doesn't scoot around on my laminate floors and mark up my wall like the old one."
2
Best Touchless
iTouchless 13-Gallon Trash Can
iTouchless
amazon.com
$106.99
This motion-sensor activated trash can is beloved by reviewers who don't want to touch any part of the trash can, even with their foot. The battery that powers the motion activation is sold separately, but only draws power as needed and has three times the battery life of other sensor cans. (Four D batteries will last up to 1.5 years.) 
The vessel can also be powered by an AC adapter, which is also sold separately. The large-capacity can features a wide 12-inch opening an odor-absorbing filter and fits 13-gallon trash bags. There is an optional lid-lock. 
Reviewers say that "even filled to capacity we only smell the nastiness for the brief moment the lid is open."
3
Best Pullout Can
simplehuman 30-Liter Pullout Trash Can
simplehuman
amazon.com
$99.99
The can keeps the mess out of sight and behind closed doors. It has a nice chrome finish and rests in a sturdy metal commercial-grade ball-bearing track frame, and it all comes preassembled. Mounting the setup in a cupboard requires eight screws. 
Custom trash bags are sold separately, but regular 13-gallon bags work just fine. One reviewer writes, "This is exactly what I wanted! I purchased two of these pull-out trash cans for under my sink area."
4
Best Budget
Umbra Grand Swing Top Garbage Can
This 10-gallon capacity garbage can does what it is designed to do—contain your trash—and little else. It features a swing-top lid that locks into place, and is made from easy-to-clean and durable polypropylene. This Umbra can hold standard 13-gallon bags, and is suitable for commercial and residential use. 
A reviewer enthuses, "this is exactly what I wanted," and "easy to carry down three icy flights of stairs." Others praise its strength and durability.
5
Best Step-Can
Amazon Basics 50-Liter Soft-Close Trash Can
Amazon Basics
amazon.com
$74.99
This 50-liter, 13.2-gallon satin nickel can opens via manual foot lever and closes softly. The material of the exterior is fingerprint-proof and smudge-resistant, and the interior bucket can be easily removed for cleaning and waste disposal. The lid offers a stay-open mode for kitchen cooks and easy garbage removal. 
Reviewers praised its look and its "smudgeproof" nature and sturdiness, but one reviewer noted that regular-sized garbage bags don't fit as well as they'd like.
6
Best Small Can
simplehuman 10-Liter Heavy-Duty Garbage Can
simplehuman
amazon.com
$29.99
This compact 10-liter kitchen trash can is great for small kitchens, families that don't generate a lot of trash, and people who live solo. 
The garbage can is built to last, with a heavy-duty steel frame that hooks securely on a door, and can also be mounted. It features a removable plastic bucket that will keep your cabinet free from spills and lifts easily for waste disposal and cleaning. Note that custom-fit liners or smaller kitchen trash bags work with this can.
One reviewer says mounting the can in the cabinet is "so easy," while another says it's "perfect" for their apartment.
7
Extra-Large
GLAD Extra Capacity Step Trash Can
This 20-gallon capacity trash can is ideal for big families or those who produce a large quantity of garbage. The garbage can also comes with built-in Clorox odor protection, which also inhibits bacteria growth on the can's lid and frame. The foot-pedal operation allows for hands-free garbage disposal. The garbage container comes with a two-year limited warranty. 
One reviewer says it is "honestly the best trash can we have owned … This trash can is huge!"
8
Best Butterfly Top
Ninestars Butterfly Top Trash Cans
Ninestars
amazon.com
$165.09
This 13-gallon touchless trash can features a semi-round design and a smudgeproof stainless steel exterior. 
It operates via motion sensor, so when your hand passes over it, the butterfly-style lid opens up; it closes again after three seconds when you move away. The vessel also seals in odor. It requires two C batteries to work, and they must be purchased separately. Large garbage bags work with this can, and it comes with a two-year warranty. 
One reviewer says that "this trash can is great under the counter," though some note that the motion detector is over-sensitive and can burn through batteries quickly.
9
Best Dual Compartment
iTouchless Dual Step Trash Can
iTouchless
amazon.com
$189.99
This 16-gallon dual step trash and recycling bin features color-coded convenience inside: the blue side is intended for recycling, and the black side for garbage, making tracking easy for big families. This garbage container works with two foot pedals and two separate tops. Plus, it has a smudgeproof stainless-steel interior that includes a full-service manufacturer's promise. 
One reviewer writes that this "can is good for three to four days of trash, keeping things fresh. Smells don't escape. Quiet lid closure."
This content is created and maintained by a third party, and imported onto this page to help users provide their email addresses. You may be able to find more information about this and similar content at piano.io
Advertisement – Continue Reading Below
Most Related Links :
newsbinding Governmental News Finance News